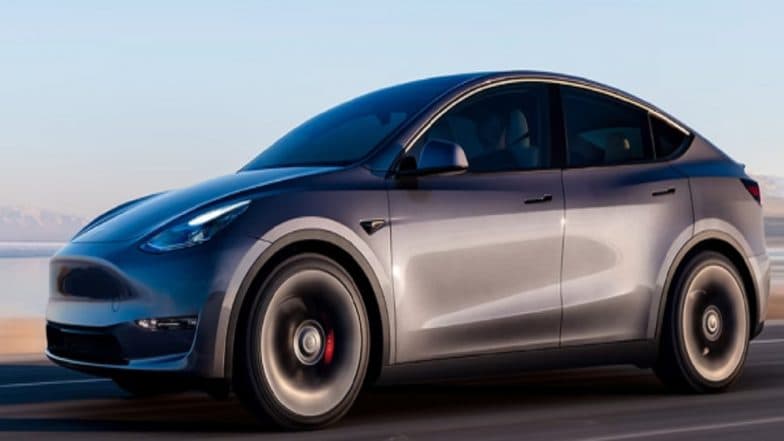 New Delhi, July 13: Reports surfaced that Tesla is looking to bring its supply chain ecosystem to India in the near future, with a cheaper Model 3 priced around Rs 2 million in India, but industry experts said. On Thursday, he said hitting that price point was a distant dream.
If all goes well, Tesla can reportedly produce 500,000 electric cars a year (starting at Rs 2 million). The company, run by Elon Musk, plans to set up an auto parts and electronics chain in India with incentives and tax benefits. Is Tesla finally coming to India? Elon Musk said Tesla will choose India as a potential site for its new factory this year.
Experts say Tesla prices are about the same around the world, with the Tesla Model 3 base model being the cheapest Tesla available today, priced at $40,240 (around Rs 33 million). Tesla cars coming to Indian market? Tesla executives are likely to visit India this week to meet with Modi government officials, the report said.
Importing this model into India will cost between Rs 60-66 crore. India imposes a 100% import tax on electric vehicles (EVs) priced above $40,000.
"However, this import duty can be eliminated with local production. It looks like," Soumen Mandal, senior analyst at Counterpoint Research, told IANS.
This cost reduction could be achieved if Tesla models manufactured in India have fewer features compared to those available in the United States. "For example, it is possible to eliminate the specific hardware required for fully autonomous driving (FSD) and instead incorporate Advanced Driver Assistance Systems (ADAS) Level 2," Mandal added.
The battery pack imported from China has a capacity of less than 50kW, and the electric motor output may be low. In addition, the electronics in the car may be reduced and a smaller center display may be used, analysts said.
Initial negotiations are underway between the Indian government and Tesla, and it could be some time before Tesla's facilities arrive in India. According to the Economic Times, Tesla is also holding meetings with industry executives in India. There are also reports that Tesla is working on a "next-generation" EV platform that will support compact cars.
"The production cost of this platform is expected to be reduced by about 50% compared to the current platform, which will allow Tesla to enter the sub-$25,000 EV segment," said India. We anticipate that it will be the manufacturing base for our compact models with prices starting at Rs 20 million," Mandal said. Recent challenges in China have prompted Tesla to explore and potentially establish a manufacturing base in India.
"The potential for a Tesla to be sold in India at around Rs 200 crore represents potentially attractive policy incentives and Tesla's ability to achieve supply chain efficiencies and costs to effectively leverage local manufacturing. In any case, the pricing decision will be driven by Tesla's business strategy," said Prabhram, who heads Cybermedia Research's (CMR) Industry Intelligence Group (IIG). increase.
"The auto market is highly competitive. Policy incentives can give Tesla a competitive edge, while encouraging incumbents in the current auto market to invest further and expand their EV portfolio," Lam told IANS. said it would.
But it's still too early to tell how Tesla's entry into the Indian market will affect existing EV players. Companies like Tata Motors and MG cater to the lower end of the EV market, while Tesla sits on the higher end of the price spectrum.
(The above article first appeared on latestLY on July 13, 2023 at 11:31 PM (IST). For news and updates on politics, the world, sports, entertainment and lifestyle, visit our Please log on to the website. recently.com).


https://www.latestly.com/auto/tesla-car-for-rs-20-lakh-in-india-still-a-distant-dream-say-experts-5264121.html Tesla cars selling for 20 million rupees in India are still a distant dream, experts say