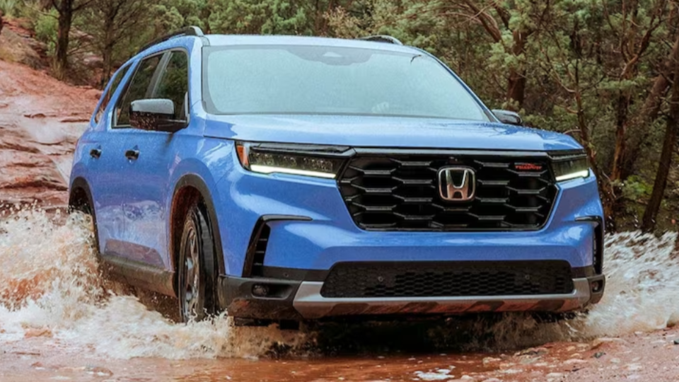 The year of price increases continues as order guide data indicates that the 2024 Honda Pilot's base price will be increasing by $790. While the current Honda Pilot has a starting price tag of $37,675 (prices include destination), the 2024 Pilot is expected to cost $38,465.
The $790 price increase affects the base Pilot LX. All of the other midsize SUV's trims will go up by a more reasonable $100 for 2024. The increase in pricing will see the Pilot Sport cost $40,975, the EX-L trim be priced at $43,775, the Touring start at $48,275, the rugged TrailSport start at $50,175, and the range-topping Elite cost $53,855.
We're not sure why pricing for the Pilot LX has gone up by so much, as the 2024 Pilot isn't expected to arrive with any major changes. Honda could have added more features, but we won't know for sure until the brand releases official information on the 2024 model. This price increase could also be due to inflation, as prices of materials and manufacturing have gone up.
While the Pilot's pricing is expected to go up by $790, it's still competitively priced in the segment. The Pilot is cheaper than the Toyota Highlander ($38,015), Volkswagen Atlas ($39,075), Mazda CX-90 ($40,970), and Jeep Grand Cherokee L ($43,330), but more expensive than the Nissan Pathfinder ($35,320), Hyundai Palisade ($37,235), Kia Telluride ($37,355), Chevrolet Traverse ($35,915).
It's never a good thing to see an automaker increase the price of a vehicle for a new model year, but it's become the norm. As far as model year increases go, Honda's one for the 2024 Pilot isn't massive, as it's keeping the entry-level LX trim around. Other automakers have been quick to drop their base trims, which substantially increases the entry-level price of their vehicles.
Pictured: 2023 Honda Pilot
http://www.carsdirect.com/automotive-news/industry-news/2024-honda-pilot-base-price-increased-by-790 2024 Honda Pilot Base Price Increased By $790