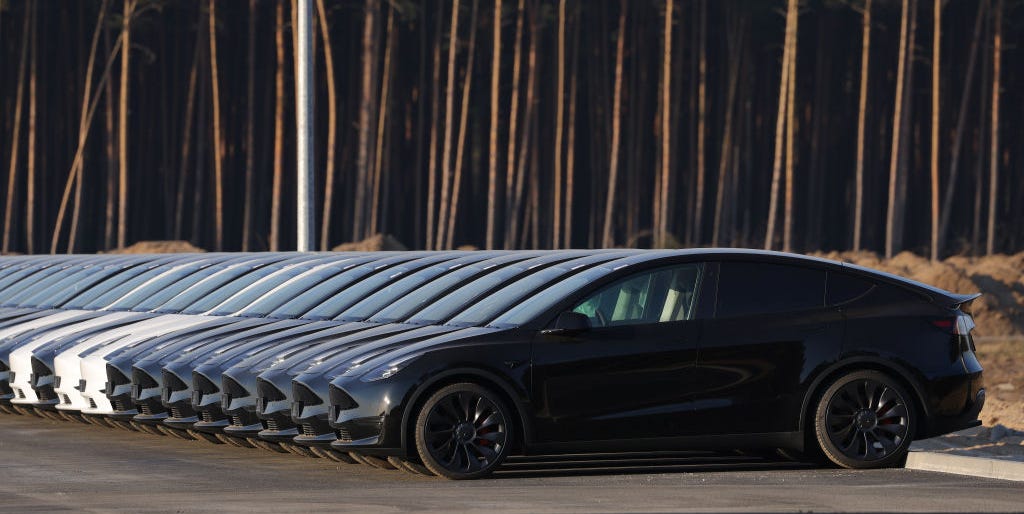 In Europe, EV sales have surpassed diesel models for the first time, with battery electrics accounting for 15.1% market share and diesel 13.4%.
Plug-in hybrids have experienced gains and losses over time in various European countries, but hold a 7.9 percent market share across the continent.
of Tesla Model Y (pictured above outside Tesla's Gigafactory Berlin-Brandenburg) became Europe's best-selling model in any vehicle category in the first six months of 2023.
Diesel vehicles have been popular in Europe for decades, where gasoline prices have traditionally been considerably higher than in many other regions. Finding small, cheap non-diesel hatches in Europe has been a challenge for some time, and the same was true of large sedans, especially in the UK.even Volkswagen diesel crisis Despite the impact on many brands, the appetite for diesel among car buyers in some individual markets was largely unquenchable.
However, sales of new battery-electric models in the European Union have outsold diesel models for the first time in history, with BEVs having a market share of 15.1%, according to June 2023 data. according to the data Published by the European Automobile Manufacturers Association ACEA. This represents an increase of 66.2% compared to the same month in 2022, when BEVs accounted for 10.7% of the EU market.
Still not achieving BEV growth equally Among EU member states, the Netherlands increased by 90.1%, while Germany and France ranked second and third with increases of 64.4% and 52.0% respectively.
Gasoline power consumption reduced to 1/3 of the market
Overall, in Europe, the petrol-engined model remains the leader with a market share of 36.3%, while hybrid vehicles are second with a market share of 24.3%.
Another trend worth noting is that plug-in hybrids in some individual EU markets are actually declined Over the past year, Germany has grown by 39.2 percent. PHEVs have also seen dramatic growth in other regions, such as Spain, where PHEV market share increased by 51.7 percent.
diesel ban
But does this simply reflect the popularity of battery-electric models, or is it the result of a regulatory war against diesel?
Many of Europe's biggest cities have experimented in recent years to keep diesel models out of city centers, ahead of an all-union target to sell zero-emission cars by 2035, adopted by the European Parliament earlier this year. Also hindering diesel demand was the Volkswagen's own crisisnow nearly a decade ago, has also impacted brands such as: audi, Skodasheet.
Still, it's too early to completely phase out diesel models in Europe.
First, despite the overall decline, diesel is actually gaining momentum in some countries, such as Romania and Germany, which increased by 22.4% last month. There is no doubt that diesel continues to be popular in many smaller Eastern European markets, both inside and outside the EU.
When it comes to battery electric vehicles, another interesting trend worth noting is that many popular EVs aren't even being produced by European automakers. Tesla's Model Y is the overall best-seller in every category in the first half of 2023, comfortably dominating the BEV market, with a number of Chinese EVs still on sale today. Neither trend was what many market analysts expected just a few years ago.

Jay Ramey grew up surrounded by very strange European cars, and instead of looking for something reliable and comfortable for his own personal use, he was drawn to the more adventurous side of the reliability range. He somehow avoided owning a Citroën, deciding that Citroën was too mundane, even though he had been chased by French cars for the past decade, and now has his sights set on the old Czechoslovakian car. Jay has been with Auto Week since 2013.
https://www.caranddriver.com/news/a44611829/europe-electric-vehicles-outsell-diesel-tesla/ EV overtakes diesel for first time in Europe