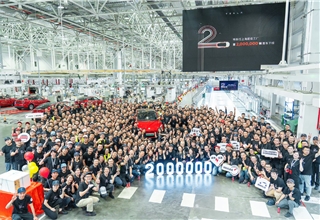 Shanghai (Gasgoo)- Tesla announced via its WeChat account that the Gigafactory Shanghai rolled off its two millionth vehicle on September 6, marking a significant achievement for the company.
The Gigafactory Shanghai, which began construction in December 2018 and commenced production in December 2019, reached its first production milestone of one million electric vehicles in August 2022. Now, it has accomplished yet another remarkable feat by doubling that number.
Photo credit: Tesla
In terms of the timeline, it took the Shanghai factory 33 months to produce its first million vehicles, but the second million was achieved in just 13 months, indicating a tremendous acceleration in production.
As of now, Tesla's growth trajectory in China shows no signs of slowing down.
According to preliminary data released by the China Passenger Car Association (CPCA) on September 4, Tesla sold 84,159 made-in-China in August, marking a year-on-year increase of 9.35% and a substantial month-on-month growth of 30.92%.
While Tesla's CEO, Elon Musk, previously mentioned a global production decline for the company in the third quarter due to factory upgrades, it seems that the momentum at the Shanghai factory has once again picked up, with the month of August seeing the third-highest shipment volume from the factory this year.
Additionally, Tesla's recent launch of the new China-made Model 3 has attracted attention of numerous industry insiders and consumers. Contrary to expectations, the pricing of the new Model 3 has not decreased but has, in fact, increased.
According to the official website, the refreshed Model 3 is available in two versions. The refreshed Model 3 Rear-Wheel Drive version starts at 259,900 yuan, while the refreshed Dual-Motor All-Wheel Drive Long Range version starts at 295,900 yuan. Deliveries are expected to commence in the fourth quarter.
https://autonews.gasgoo.com/new_energy/70027859.html Tesla's Gigafactory Shanghai rolls off 2 millionth vehicle