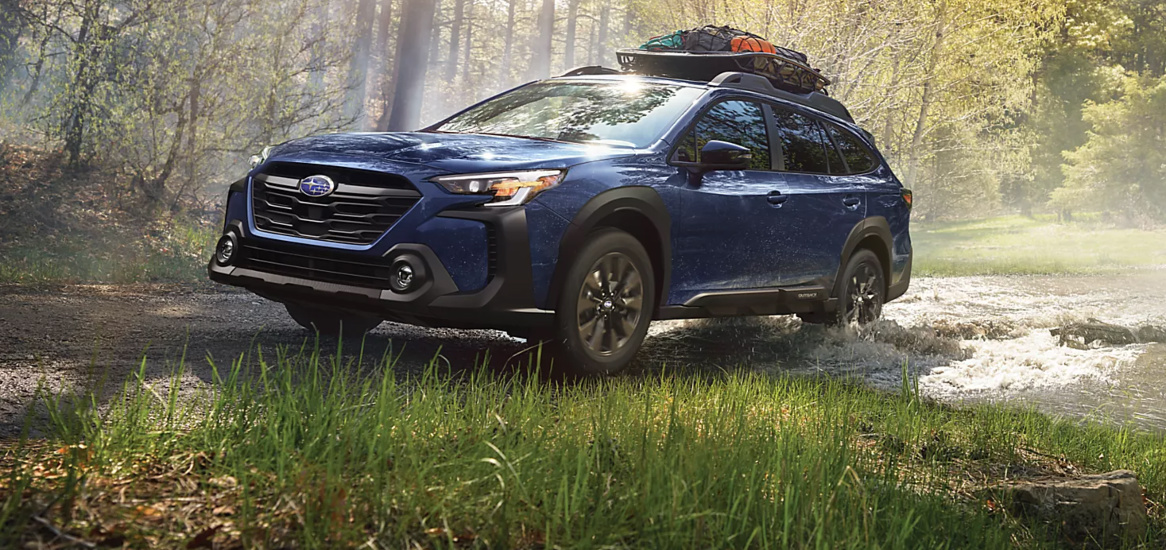 Originally a separate trim level for the Subaru Legacy Wagon from 1994 to 1999, Outback models started their own separate family in 2000.
Popularizing the lifted station wagon, the Outback has become a staple of adventure vehicles and a sensible alternative to the more common SUV. Later models increased in size, making the Outback a ride somewhere between a wagon and a crossover sport utility vehicle.
---
2020 – present Subaru Outback BT (5th generation)
Completely redesigned for 2020, the Outback enters its fifth generation (or sixth generation, including the earliest Legacy Outback trim) with more aggressive styling and a refreshed naming convention. The latest generation of his seven trim offerings are Base, Premium, Limited, Touring, Onyx Edition XT, Limited XT and Touring XT.
The Base, Premium and Limited trims come standard with a 2.5-liter 4-cylinder engine producing 182 horsepower. The XT model has a turbocharged 2.4-liter four-cylinder engine with 260 horsepower, replacing his six-cylinder engine, which was optional on the previous generation.
The Outback, in standard trim with a 2.5-liter engine, has an EPA-estimated fuel economy rating of 26 MPG in city and 33 MPG on the highway. The turbocharged model saved an estimated 23 MPG in city and 30 MPG on the highway.
All models are connected exclusively to a continuously variable transmission and offer standard all-wheel drive.
One of the notable additions to the 2020 Outback was the advanced DriverFocus system that detects driver distraction or drowsiness. The system uses facial recognition to set the seats and mirrors to your personal preferences.
in order to 2021 Year Subaru has made some additions to the standard safety features included in the Outback. This includes standard rear seat reminders, passenger seat belt warnings and adaptive headlights.
big change for 2022 This included the introduction of Outback Wilderness, a new off-road oriented trim level. This trim comes with enhanced suspension with additional ground clearance, all-terrain tires, and selectable driving modes for the AWD system.
This model also received water-resistant upholstery, an upgraded roof rack, and copper accents on both the interior and exterior.
The Wilderness model is powered by a turbocharged 2.4-liter flat-4 engine that develops 260 horsepower and 277 lb-ft of torque.
in order to 2023 The automaker made major model year changes to the Outback with a new grille, headlights, additional body cladding and a new front bumper. The car's driver assistance system has also been improved, adding a camera with a wider field of view.
---
2015 – 2019 Subaru Outback BS (4th generation)
As the fourth generation, Subaru introduced five trim lineups: 2.5i, 2.5i Premium, 2.5i Limited and 3.6R Limited. The numbers refer to the engine size, unchanged from the previous generation.
For 2015, all trims come standard with a continuously variable transmission (CVT) and all-wheel drive.
The interior has also been refreshed, ditching previous plastic trim and cheap materials to provide a more elegant driving experience.
The 2017 model year Outback comes standard with two new driver assistance features: Hill Descent Control and Hill Holding Assist. Additionally, a 6-inch touchscreen infotainment system, rearview camera, Bluetooth connectivity and 60/40 split rear seats are standard on all models.
For 2018, Touring trim was added to both the 2.5i and 3.6R offerings. This high-end trim option offers advanced technology features, premium materials and styling accents. Apple CarPlay and Android Auto connectivity also came standard on all models in 2018.
In 2019, Subaru's driving assistance safety package "EyeSight" became standard equipment on all models, strengthening the safety standards of the Outback. The overall safety feature bundle includes adaptive cruise control, frontal collision mitigation, lane departure warning, blind spot detection, rear cross traffic warning and parking sensors.
---
2010 – 2014 Subaru Outback BR ​​(3rd Generation)
In 2010, Subaru introduced a new trim for the Outback, introducing the third generation. He was available in 6 trims: 2.5i, 2.5i Premium, 2.5i Limited, 3.6R, 3.6R Premium and 3.6R Limited.
The 2.5i model is powered by a 170-horsepower 2.5-liter boxer engine mated to a 6-speed manual or continuously variable transmission.
The 3.6R model has a 256 hp 3.6-liter six-cylinder engine mated to a five-speed automatic transmission.
This new generation is much larger than its predecessor, and its added space was most noticeable in the cabin. The 2010 model boasts a more sophisticated design and features such as automatic headlights, full power accessories and cruise control as standard.
For 2013, the base 2.5-liter Boxer engine received an update, boosting power output to 175 hp and improving fuel economy to 24 mpg in city and 30 mpg on the highway. Additionally, Subaru has retuned the suspension and restyled the front end to improve handling.
---
2005 – 2009 Subaru Outback BL/BP (2nd Gen)
The second generation Outback debuted with new trim, probably due to the rich variety offered in 2005.
The first series is the base 2.5i and 2.5i Limited, both of which are wagon body styles, equipped with a 2.5-liter boxer engine inherited from the first generation, and a 5-speed manual or 4-speed automatic can be selected. contagion; infection.
Next, the 2.5XT and 2.5XT Limited are also wagon bodies only, equipped with a 250-horsepower 2.5-liter turbocharged boxer engine as standard, combined with a 5-speed manual transmission (5-speed automatic as an option).
Rounding out the trim offering is the 3.0R, which comes in three variants: sedan, LL Bean Edition and VDC Limited.
The 3.0R model comes standard with the same 250 hp engine paired with a 5-speed automatic transmission.
The 2005 Outback came standard with many features, including cruise control, keyless entry and a six-speaker audio system.
From 2007 to 2009, the Outback offered an ever-changing line-up of trims, and while the naming convention was constantly tweaked, the vehicle itself and the base engine remained relatively unchanged. Significant improvements across the platform during this time were limited to stability controls added to the 2009 model year and minor styling modernizations.
---
2000 – 2004 Subaru Outback BE/BH (first generation)
When the Subaru Outback was separated from the Legacy as a separate model in 2000, much of the platform's architecture was retained. The 2000 Outback was available in base wagon trim or a higher limited trim with wagon or sedan body styles.
All models were powered by the same 165 hp 2.5-litre boxer engine and were mated to a 5-speed manual transmission in both wagon trims and a 4-speed automatic in the sedan trims.
All-wheel drive was standard on the 2000 model, with robust four-wheel independent suspension, seven inches of ground clearance, anti-lock brakes and 24-hour roadside assistance.
In 2001 Subaru added two new trims to the family: the H6-3.0 LLBean Edition and the H6-3.0 VDC. Both new models were powered by his more powerful 212-horsepower 3.0-liter six-cylinder engine, mated to a four-speed automatic transmission. This powertrain system added a sedan body style option to both new models in 2002. Styling updates for 2003 gave the Outback a more SUV look and improved front struts to minimize body roll while cornering.
---
1995 – 1999 Subaru Legacy BD/BG
In 1995, Subaru introduced the Outback as the trim level that would be fitted to the second generation Subaru Legacy base model. The Outback trim level was fitted with a luggage rack and suspension lift to provide a more aggressive look.
With the endorsement of actor Paul Hogan, the Outback version of the Legacy far exceeded expectations, eventually splitting the Outback into its own family and reviving Subaru as a competitor in the U.S. market. bottom.
The Legacy Outback came standard with Subaru's 130-horsepower 2.2-liter EJ22 engine. For 1996, the option to upgrade to his 2.5-liter EJ25 engine of 155 hp became available.
These first models were built at Subaru of Indiana's production facility in Lafayette, Indiana.
https://www.autolist.com/subaru-outback/subaru-outback-generations Subaru Outback Generations