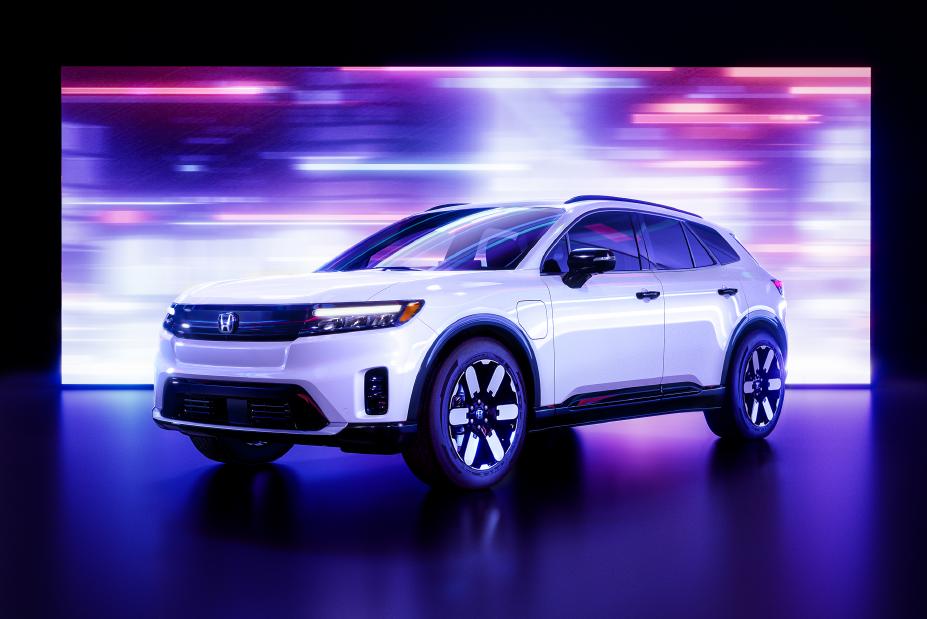 Designed at the Honda Design Studio in Los Angeles, the first fully electric Honda SUV will go on sale in 2024.
Honda today unveiled the exterior and interior styling of the Honda Prologue, an all-new battery-electric SUV that hits North America in 2024. Plenty of interior space for adventures in and out of town.
Modern design with neo-rugged aesthetics
Honda's Los Angeles-based design team is in charge of styling the exterior and interior of the new Prologue. A young team of designers set out to create a modern, fresh SUV with clean, simple surfaces. Neo-rugged was coined as his direction for design that brings harmony of natural elements to the exterior and interior of the Prologue. This design direction is reflected in details such as the panoramic roof and large 21-inch His wheels, giving this model a functional and sophisticated exterior. The front fascia is inspired by the distinctive exterior of the groundbreaking Honda e EV model.
The Prologue is available in an exclusive North Shore Pearl exterior colorway inspired by the natural beauty and colors near Lake Tahoe, California. In addition, the exclusive charcoal and light gray interior colors are used to create the image of fresh snow on the mountains.
Masaki Sumimoto, who is in charge of color and material design, said, "In order to be familiar with customers and to express Honda's unique neo-rugged design styling, we coordinated colors and materials based on the rugged image of an SUV. We aimed to create clean harmonies." end.
Further building on Honda EV's brand identity, the 'H Mark' badge on the rear of the vehicle will be replaced with the full Honda brand name in a stylized typeface that captures the Prologue's modern, clean design. Additionally, in line with Honda's global EV models, the Prologue will adopt the brand's e:series name badge.
Prologue is well positioned in Honda's light truck line-up
The Prologue was conceived as a modern, fresh design that feels right at home in the existing Honda SUV showroom. The Prologue's generous dimensions and spacious interior place the SUV alongside the Passport in Honda's light truck lineup. The Prologue has a 121.8-inch wheelbase, about 8 inches longer and 5 inches wider than his all-new 2023 Honda CR-V.
The interior of the Prologue is spacious, offering plenty of space for passengers and cargo. The Prologue showcases a tech-rich cabin and features a standard all-digital 11-inch driver display panel and 11.3-inch audio/connectivity display.
inspire future buyers
This "Year of the Honda SUV" will include the HR-V, CR-V and Pilot, models that will play a key role in preparing for mass sales of Honda EVs starting in Prologue in 2024. The Drive targets active customers who want the versatility of an SUV with the zero-emission benefits of a BEV.
"We are not looking to wait until 2024 to attract EV buyers because we believe CR-V customers will naturally migrate to the Prologue with its slightly larger size, spacious interior and superior handling." said Gary Robinson, vice president of automotive planning. American Honda strategy. "By implementing smart strategies with CR-V hybrids, we will support that transition and enable our customers to transition to EVs."
Honda research shows that hybrid-electric customers are among the first to transition to full-electric offerings. Honda plans to increase the model mix of his CR-V for 2023 to 50% of his hybrid sales, and CR-V hybrid customers will be able to expect the model to hit the market in the fall of 2022. We plan to offer his two-year short-term lease in ZEV state when it appears. This will allow customers in target markets to easily transition to Prologue when the new EV launches in 2024. In this way, the company's hybrid sales growth will help grow its EV customer base in the future.
sauce: Honda
https://www.automotiveworld.com/news-releases/charging-toward-adventure-honda-reveals-styling-of-all-new-prologue-electrified-suv/ Rush towards adventure: Honda reveals all-new Prologue electric SUV styling