As a compact crossover, ford escape and nissan rogue The are two popular entries considered one of the backbone of the US automotive market, and have largely replaced midsize sedans in the US family landscape.
In addition to the spacious interior and comfort, both offer a full feature list, including all-wheel drive availability and slightly more ground clearance than a passenger car, making it easier to get in and out of. Neither are designed to please performance purists, but the Escape comes in a wider range of versions, including a mileage-focused hybrid and plug-in hybrid versions in addition to the sporty ST line. .
Don't confuse the Nissan Rogue with the Rogue Sport. The Rogue Sport was about 10 inches shorter than the Rogue and sold for about $3,000 less than the base Rogue. That model won't be back in 2023.
Nissan Rogue vs. Ford Escape Pricing and Features
Base Rogue starting at under $29,000

Base Escape starts below $30,000

Both models are around $40,000, except the Escape plug-in hybrid is even more expensive.

Best Picks: Rogue SL, Ford Escape ST-Line, Escape Hybrid Active
How much is the Nissan Rogue?
The Nissan Rogue will be available in S, SL, SV and Platinum models, with the base S version starting at $28,695. The top-level platinum version starts at $39,975. All-wheel drive is $1,500 more than front-wheel drive in any of these trims.
The Rogue's options are limited and consist of a few comfort-focused extras. Examples include Platinum's Platinum Premium his package. The package adds rear seat heating, tri-zone climate control and a head-up display for an additional $620. The Rogue SL probably represents the best value, with optional premium packages that add things like a power tailgate, upgraded infotainment and Bose audio for a total of around $38,000.
Separately, the Midnight Edition, offered on the Mid Trim model, adds a Blackout look to the entire trim, including the wheels, for an additional $1,535.
How much is a ford escape
The Ford Escape spans a wide range of price points, depending on your choice of powertrain (Turbo 3, hybrid or plug-in hybrid) and whether you choose front or all-wheel drive. Starting at around $29,500 for the base version with Turbo 3 and front-wheel drive, all-wheel drive starts at around $31,000 and goes up to around $42,000 for the Escape plug-in hybrid. It comes in front-wheel-drive format and can be loaded up to about $47,000.
For the Turbo 3 and Hybrid models, top trim is Platinum or ST Line Elite for around $40,000 and $41,000 respectively. ST-Line can be loaded up to $46,000.
The new ST-Line Series trim for 2023 incorporates a more sporty tuck with a black mesh grille, rear skid plate and rear wing spoiler, as well as red stitching, seat trim and center armrest. Tighter suspension, flat-bottom steering and 18-inch wheels are also added.
The new active model sits in the middle, replacing the previous SE and SEL and landing in the low $30,000s. Add in a panoramic roof and his one of two big tech option packages and the price can exceed $40,000.
Advantages: The Nissan Rogue costs slightly less and can be loaded with useful features to lower your bottom line.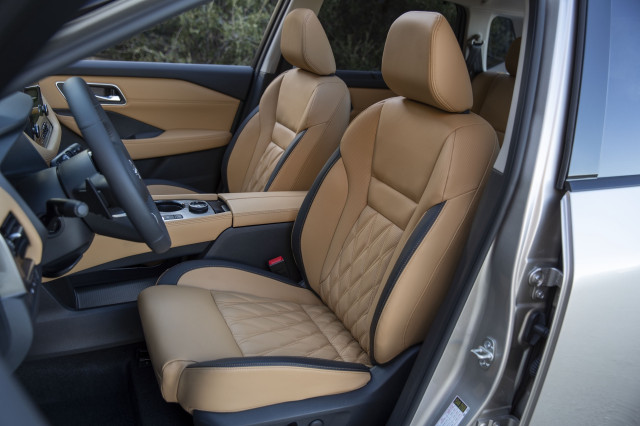 2023 Nissan Rogue
Ford Escape vs. Nissan Rogue Size, Seats and Cargo Space
Rogue is a little longer and taller, Escape is a little wider

In overall passenger numbers they are practically the same

Rogue feels bigger than the escape inside — more than the numbers suggest
Comparing the overall size of the Escape and Rogue is a toss-up. The Ford Escape is approximately 180 inches long, 74 inches wide and 66 inches high with a wheelbase of approximately 107 inches. The Rogue, on the other hand, is about 183 inches long, 72 inches wide and 67 inches high, with a wheelbase of about 107 inches.
But according to official passenger figures, the difference is small. Escape total passenger capacity is 104 cubic feet for him and just over 105 cubic feet for Rogue.
The Rogue's space advantage becomes even more apparent when the seat is folded. About 65 cubic feet in the Escape, compared to 74 cubic feet behind the front seats in the Rogue. Rogue SL and Platinum Level Divide-N-Hide partitions help push that cargo space to his 36.5 cubic feet, but cargo space with the raised seats is a slightly different story.
Passenger dimensions show no clear advantage for either. But of the two, the Rogue has the more comfortable seats. Rogue's Seemingly Wide Doors Maybe it's the psychological effect of her cut or seat height, but I think the Rogue feels a little wider for most people.
Pros: Although they're basically the same size, the Nissan Rogue can carry more stuff and feels a bit more spacious overall, especially with the rear seats folded down.
2023 Ford Escape ST Line
Ford Escape vs Nissan Rogue Towing
Skip the Rogue if you plan to tow regularly no matter how small

Choose the Escape version with a 2.0-liter Turbo 4 to tow up to 3,500 pounds

Even hybrids can be towed — a little
The Rogue weighs just 150 pounds and is approved to tow just 1,500 pounds. Its CVT design tends to be inferior to traction.
The Escape is the champion here, with a trailer towing package and a 2.0 liter inline four with a towing rating of up to 3,500. The base Turbo 3 is either a front-wheel drive or all-wheel drive version he can tow 2,000 lbs, the hybrid he can tow 1,500 lbs, and even the plug-in his hybrid is good for 1,500 lbs.
Advantages: Neither model can tow large loads, but if you plan to tow occasionally, the Escape is the better choice.
2023 Nissan Rogue
nissan rogue vs ford escape offroad
The Nissan Rogue offers 8.2 inches of ground clearance, while the Ford Escape has about 7.5 inches of ground clearance in petrol form depending on the version. The Escape Hybrid and Plug-In Hybrid versions offer slightly less functionality.
In stock form, the Rogue's all-wheel-drive version has a suspension tune that makes it a little more forgiving on rocky trails.
None of these models offer true undercarriage protection off-road, though, and they're not really that sturdy. For example, the Escape ST-Line's rear skid plate is primarily for show. Both all-wheel-drive versions can tackle snowy driveways and occasionally access muddy and sandy campsites.
Advantage: Rogue. But you shouldn't buy any of these for offroad use.
2023 Ford Escape ST Line
Ford Escape vs Nissan Rogue Safety
The list of standard active safety items is impressive for both.

Neither the Nissan Rogue nor the Ford Escape have the best safety ratings in every respect.

The Ford Escape does somewhat better in crash tests.
Under the stricter IIHS standards, the Nissan Rogue no longer ranks high on safety. The "marginal" result on the updated moderate overlap front test and the "acceptable" result for side crashes on the updated test make it good, but not the best. It wasn't even top of the line in NHTSA testing, with a 4-star head-on crash result.
The Ford Escape has almost the highest rating from the IIHS, but that rating is just "marginal" in the agency's updated side crash tests. In NHTSA testing, the Escape achieved 5-star results front, side and overall.
Both of these models come standard with automatic emergency braking and blind-spot monitoring, along with well-tested headlights. Both Rogue and Escape also have adaptive cruise control, which is considered a safety feature.
Advantage: Ford Escape
2023 Nissan Rogue
nissan rogue vs ford escape performance
The Rogue has more power and torque, but the base version has about the same acceleration

Escape has more responsive passing and more engaging handling

Hybrid version is slower but pays off in mpg
Both of these mainstream crossovers are powered by engines that would have been in the minority a few years ago: the 1.5-litre Turbo 3. The Rogue's Turbo 3 makes 201 hp and 225 lb-ft of torque, while the Escape's similarly sized engine makes 180 hp and 199 lb-ft of torque.
However, the Rogue's CVT feels sluggish and reluctant to make quick passes even when it has power, so it turns the tables when it comes to practical drivability. His eight-speed in the Escape is, counterintuitively, much more flexible. And with a stopwatch, it's a toss up. With these base engines, both Rogue and Escape can reach 60 mph in just under 8 seconds of her.
The Escape has several other powertrains as well. The 2.0 liter Turbo 4 makes 250 hp and 280 lb-ft of torque. That's a big difference, with a 0-60 time of less than 6 seconds and plenty of passing power. With around 200 hp of total power, the Escape Hybrid model isn't quite as fast as the Turbo 3, but it makes up for it in fuel economy.
Rogue vs. Escape has vastly different ride and handling attributes, so take it for a test drive. The Escape doesn't feel like Ford's larger SUVs at all, and the Rogue isn't particularly agile. Or, to summarize this, the Escape drives like an SUV with the sharp bones of a compact car, while the Rogue is more comfortable in the way it rides and handles and feels like a smaller Pathfinder.
Advantage: Escape with sharper handling and higher power Turbo 4.
2023 Ford Escape Plug-in Hybrid
ford escape vs nissan rogue fuel economy
With the basic Turbo 3 engine, the Rogue is more fuel efficient than the Escape.

AWD drops total mileage on Escape more than on Rogue

escape hybrid model top 40 mpg
The Nissan Rogue gets up to 30 mpg city, 37 highway 33 combined in the base version, but less than 1 mpg in the other versions. AWD drops an additional 1 mpg for a total of 31 mpg.
The Ford Escape is an interesting case because the standard non-hybrid version isn't as efficient as the Rogue. The Escape model with the Turbo 3 base engine gets 27 mpg in city, 34 mpg in city and 30 mpg total, while the all-wheel drive version drops him to 26/32/28 mpg. His AWD model with a 2.0 liter Turbo 4 gets 23/31/26 mpg, which isn't all that low.
However, the Escape is offered as a hybrid, and hybrid models are rated at a typical 42 mpg city, 36 highway, and 39 mpg whether front or all-wheel drive.
In previous model years, the Escape plug-in hybrid hit 37 miles all-electric, then 40 mpg combined.
Advantage: Escape Hybrid
2023 Nissan Rogue
Nissan Rogue vs Ford Escape Interior and Technology
Both have an 8.0-inch touchscreen at base level

Mid-level Escape models and above can get a 13.2-inch touchscreen

Soft and warm rogue trend in cabin trim, simple and sporty escape
Looking at the base versions of Escape and Rogue, both include an 8.0-inch touchscreen interface with Apple CarPlay and Android Auto compatibility. Both models can also be optionally equipped with a parking assist system, adaptive cruise control and head-up display.
The Escape model from Active Trim feels a step up in sophistication with a 13.2-inch touchscreen interface and 12.3-inch instrument cluster. Rogue's top platinum version features a 12.3-inch digital dash and a larger 9.0-inch touchscreen.
That said, Rogue does surprise with some features typically reserved for luxury brands. The available panoramic sunroof, Nappa leather seats, and Bose audio are all available in platinum in the top trim if you want to top $42,000.
The Rogue also does a more convincing job of looking more upmarket with improved touchpoints and trim adjustments. It makes its cabin feel more like an elevated compact car.
Advantages: The Nissan Rogue has no technical advantages, but more convincing luxury.
2023 Nissan Rogue
Which is better Rogue or Escape?
The Nissan Rogue achieves a TCC rating of 6.5 out of 10, while the Ford Escape gets a 6.3. This compares the bases (and most popular versions) of these crossovers and shows that the Rogue excels in comfort, roominess and value. However, when performance and fuel economy are a priority, the tide changes.
Winner: Nissan Rogue
https://www.thecarconnection.com/news/1130004_nissan-rogue-vs-ford-escape-compare-crossover-suvs Nissan Rogue vs. Ford Escape: Compare Crossover SUVs