Foreign-branded Chinese new energy vehicles (NEVs) grabbed a larger market share in the world's largest auto market in August.
According to data compiled by the Gasgoo Auto Research Institute, the country registered 1,823,747 domestic passenger vehicles in August, of which 26.25% were NEVs, equivalent to 478,796. NEVs accounted for 44.66% of all domestic brand registrations, with 405,050 registered, but NEVs' share of monthly registrations of foreign car brands was only 7.25%, lower than the industry average and domestic cars. Much lower than the manufacturer's level. There were a total of 309 of his NEV models on the Chinese market this month, 69 of which were from foreign brands.
Last month, registrations of locally produced NEVs by foreign brands nearly tripled to 73,746, accounting for 15.4% of the country's monthly NEV registrations, 4.5 percentage points higher than the same month last year when foreign brand registrations totaled 24,922. In the first eight months of this year, the foreign brand's NEV registrations increased by 67.57% year-on-year to 485,577 units.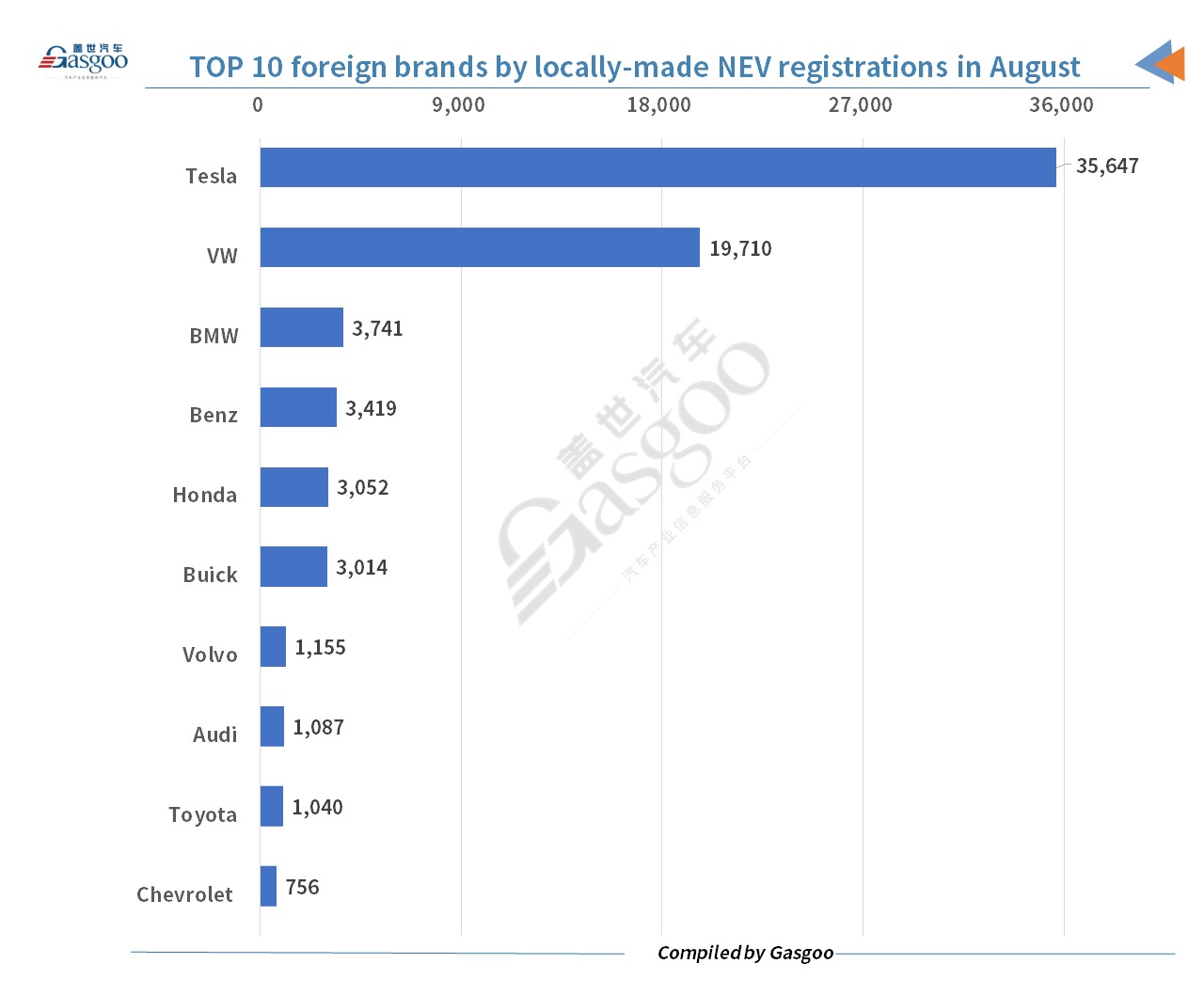 Only Tesla and Volkswagen exceeded 10,000 monthly NEV registrations, while all other foreign brands had less than 4,000. All brands registered less than 500 NEV in his month, surpassing the top 10 brands by monthly registrations.
Tesla, which makes the Model 3 and Model Y at its Shanghai factory, is the absolute leader in monthly and year-to-date registrations. With 31,800 Model Ys and 3,847 Model 3s registered in August, Tesla beats his second place by nearly 16,000. January-August During this period, half of his NEV registrations for foreign brands were from Tesla, whose registrations totaled 242,801 during this period.
Volkswagen registered a 146% increase in August registrations compared to the same month last year, followed by two other German brands. Mercedes-Benz is stepping up its NEV efforts in China. This year, the luxury automaker plans to launch 21 of his models in China, including eight of his NEV models. Currently, Beijing Benz, a joint venture with BAIC Group, offers the market six of his NEV models, including EQA, EQB, EQC and EQE. Benz also opened its Shanghai R&D center, his second in China after Beijing, this year.
The Mustang brand ranked 11th in the August registration, with only one model sold. By August, registrations of the American brand in China had reached 4,698 units. Since the Mustang Mach-E hit the market, its registration record hasn't been all that steady, peaking in his March of this year before declining the following month, and in August he hit 415 units. , was his third lowest number for the year.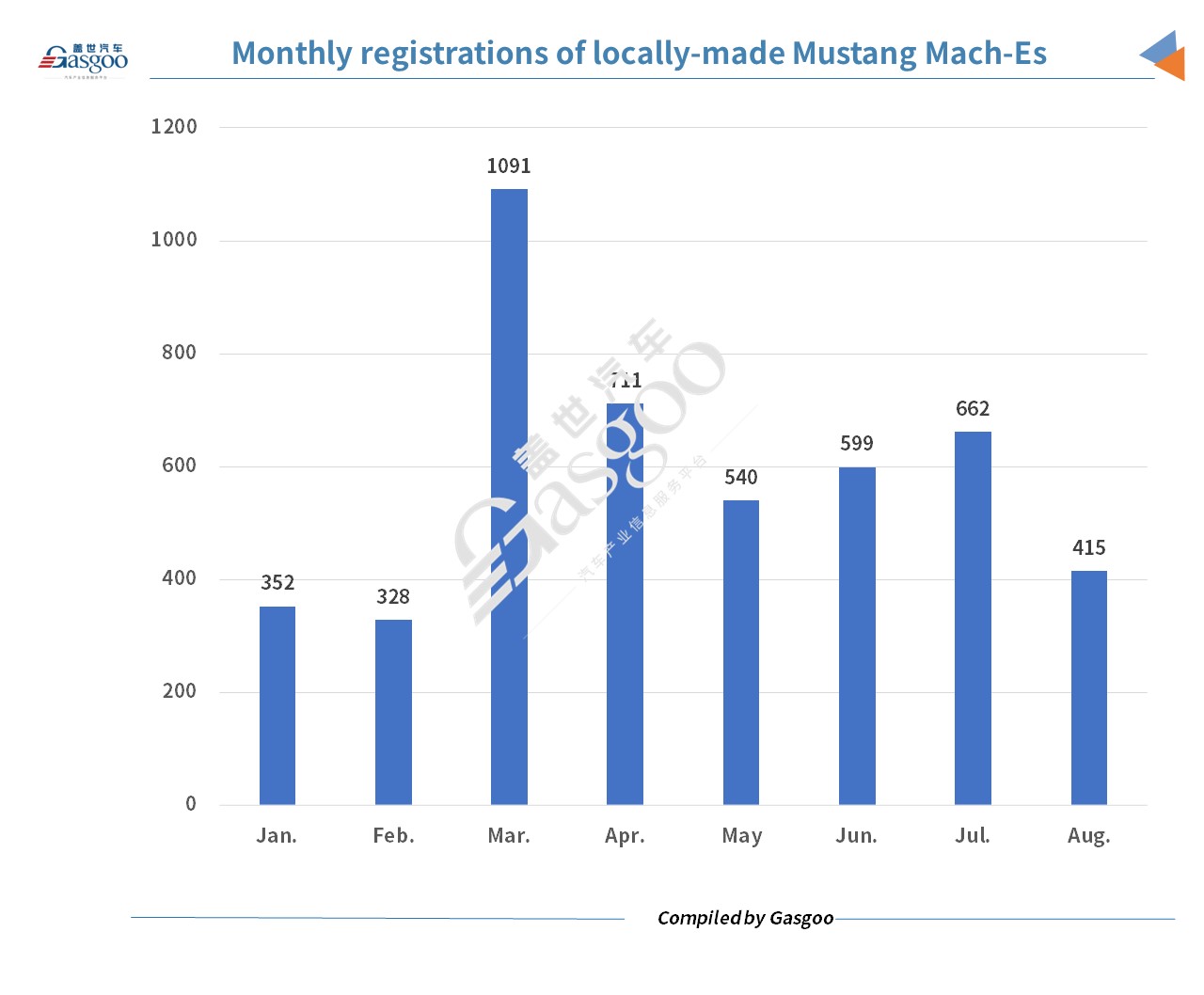 To accelerate electrification in China, Ford Motor this month launched FMeT, which focuses on the research, development and operation of intelligent electric vehicles (EVs) in China. The new company is not only the American automaker's third subsidiary in China, but also the first independent entity of a foreign automotive brand dedicated to the development and operation of intelligent electric vehicles in China. I'm claiming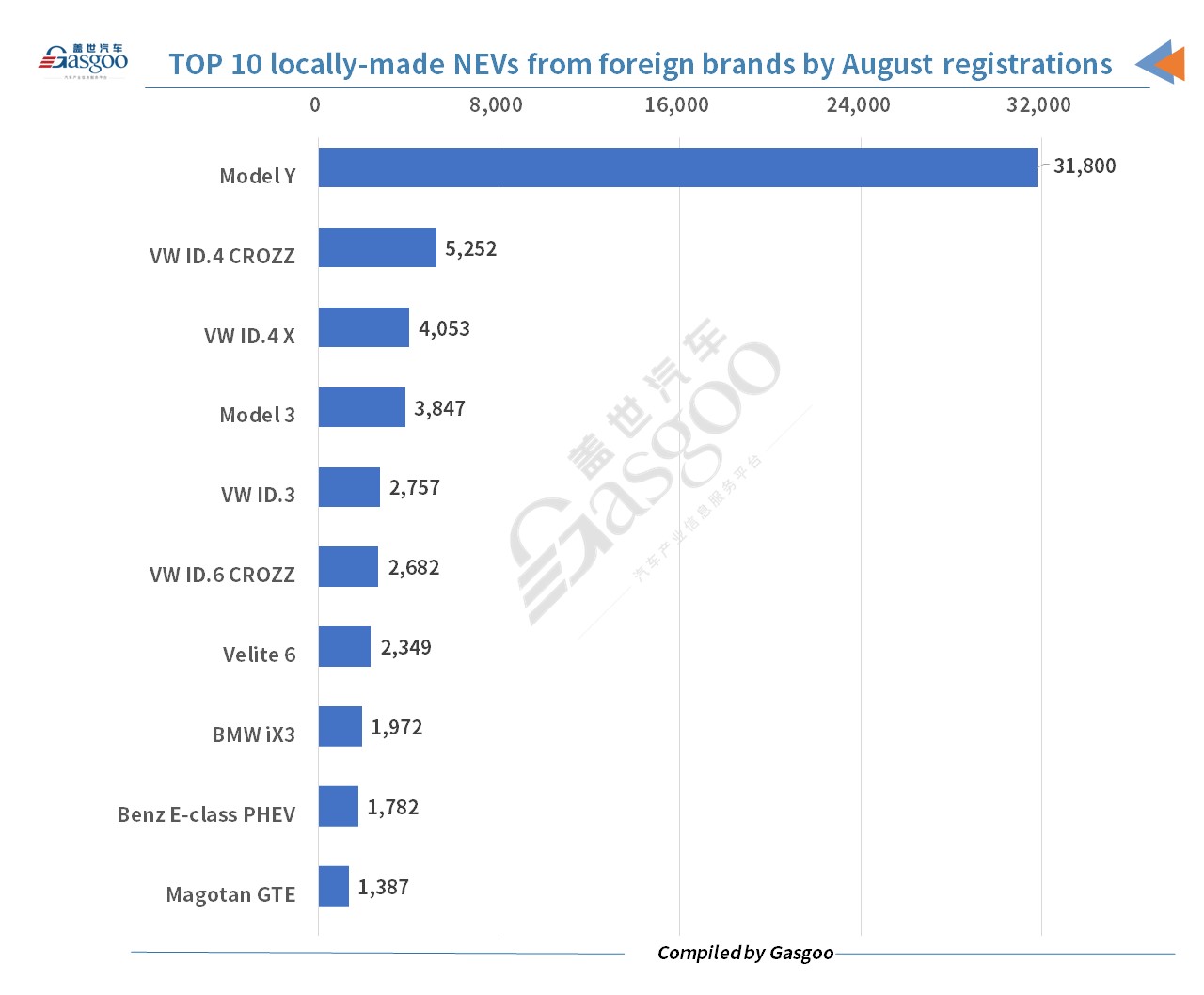 Volkswagen-branded models occupied four spots among the top six foreign-brand electric vehicles registered in China in August, with all four models more than doubling registrations in a month. Another model of ID. The series, ID.6 X, was in 12th place with 1,290 registrations.
The German giant has spared no effort to increase its presence in the country's NEV market. Apart from SAIC VW and FAW VW, Volkswagen Anhui is the group's first joint venture dedicated to his NEV in China and will start mass production of the first model from 2023, says Volkswagen Anhui CEO. Dr. Erwin Gabardi said recently at his 2022 World. A manufacturing convention held in Hefei City, Anhui Province. Executives have committed to building a sustainable and robust NEV ecosystem in the state.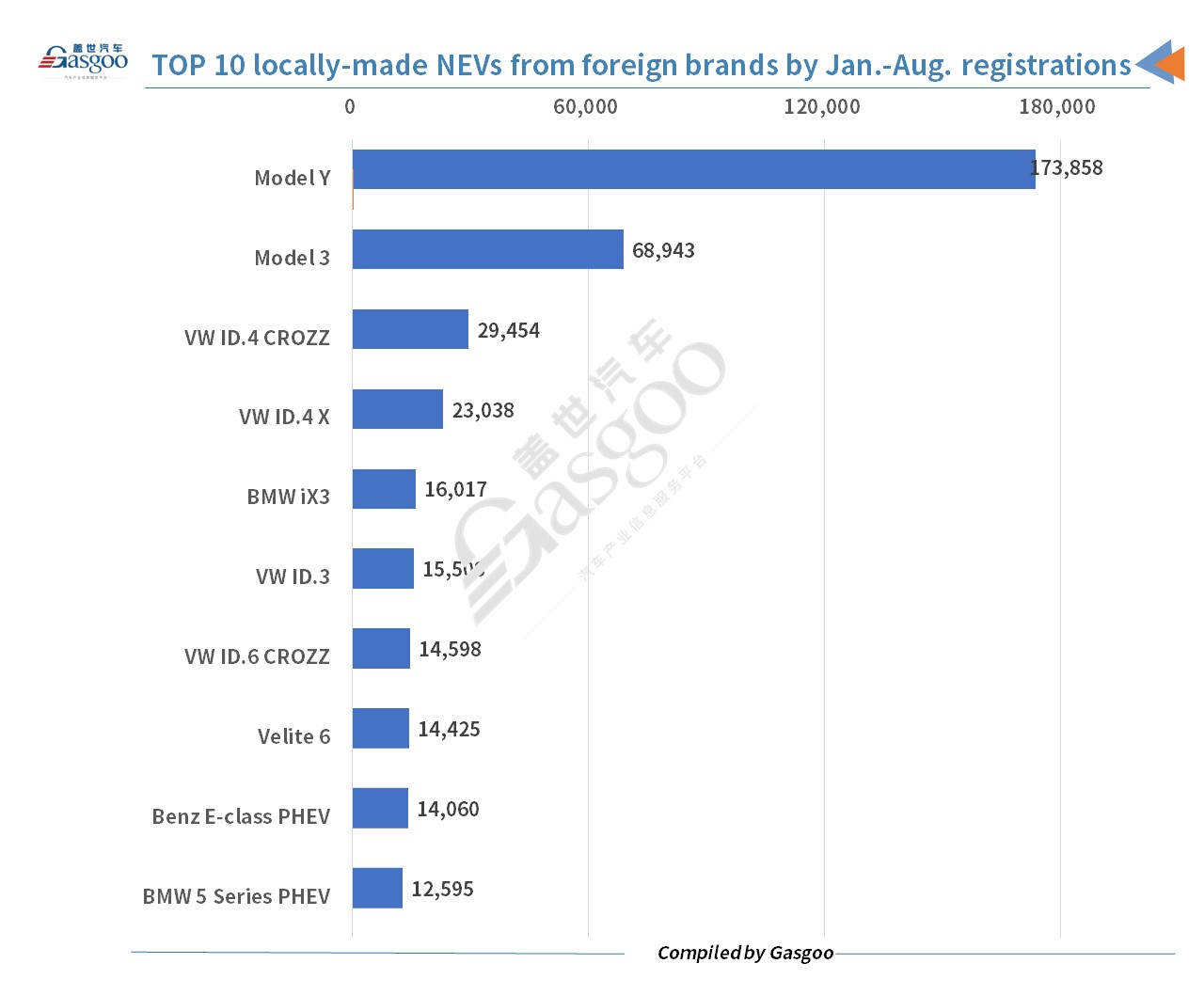 Honda performed best among all Japanese brands, with Toyota's NEV market registrations down 43.45% year-on-year. Among all Japanese brand NEV models, Dongfeng Honda's M-NV took the highest position with 961 registrations in August, with registrations up to August rising 112.5% ​​year-on-year to 5,270 units. became.
Nissan, considered a pioneer in the battery electric vehicle market with its Leaf, registered only two NEVs in China last month. The Nissan Ariya, which hit the Chinese market on September 27, could revitalize the performance of the Japanese brand's NEV in China.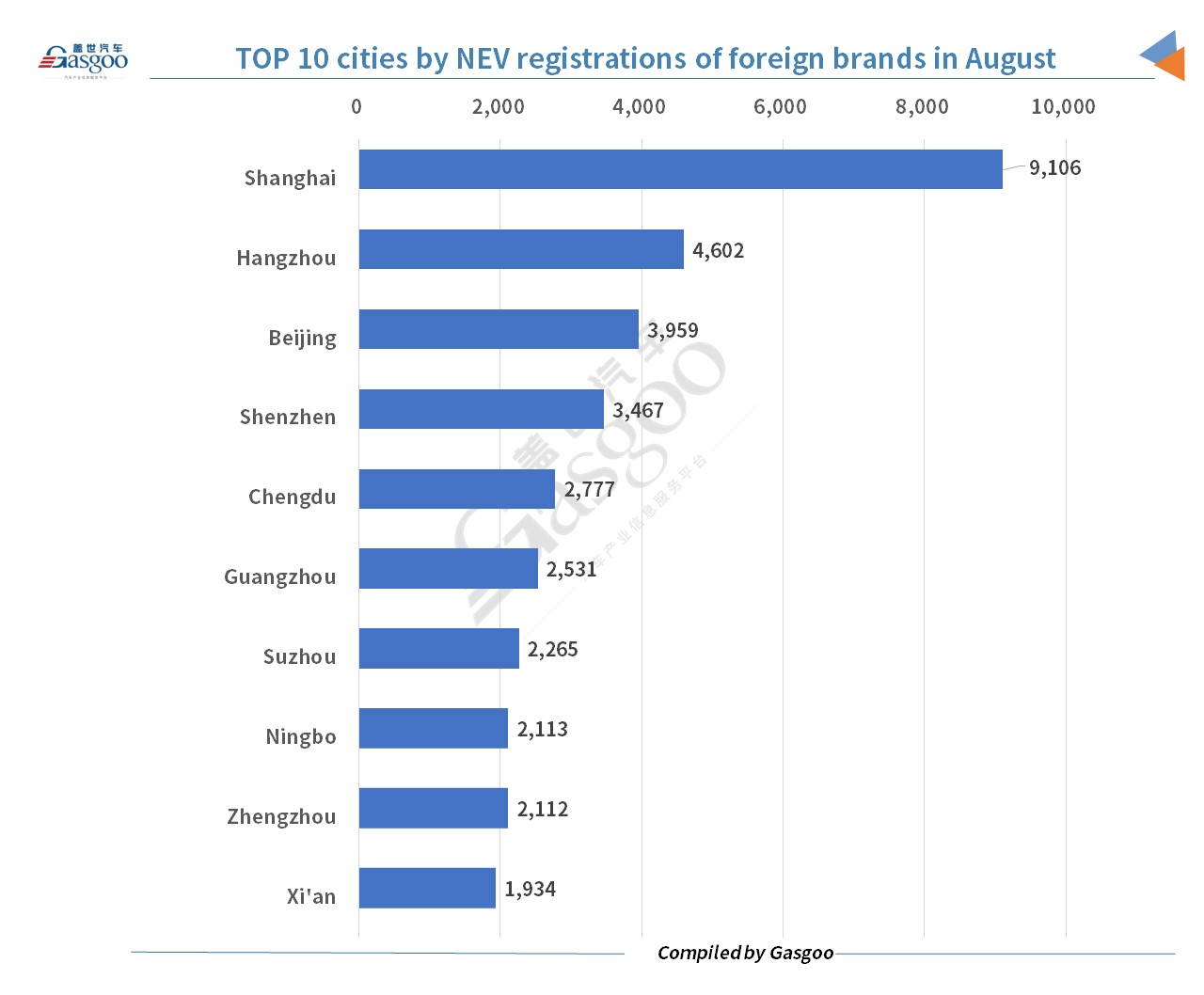 As with other NEVs, foreign branded NEVs are accepted in big cities. In Shanghai, home of SAIC VW and SAIC GM, registrations of the foreign brand's NEVs nearly tripled to 9,106, surpassing other cities in China. However, registrations through August were down 4.87% year-on-year for him, affected by his COVID-19 resurgence in the first half of this year.
Hangzhou registered more NEVs in August than Beijing, Guangzhou and Shenzhen. Tesla Model Y is his NEV model of the most popular foreign brands in the Zhejiang capital, registrations account for his 54.4% of his NEV registrations of foreign brands in the city.
During the January-August period, 14 cities registered over 10,000 foreign-branded NEVs, eight more than the same period in 2021.
https://autonews.gasgoo.com/new_energy/70021429.html Foreign brands register more domestic new energy vehicles in China in August