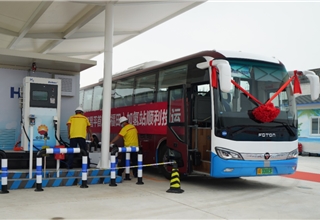 Shanghai (Gasgou)- Beijing, the Chinese capital, has ambitious plans to build 74 operating hydrogen fuel stations by 2025, of which 37 will be installed, according to a document released by the Beijing municipal government earlier this week. One is scheduled to be built by 2023.
The document outlines the five-year (2021-2025) plan Beijing has set for developing hydrogen stations for fuel cell vehicles (FCVs).
Photo credit: Photon Motor
So far, 11 hydrogen filling stations have been installed in Beijing, 10 of which are in operation.
According to plans, Beijing aims to push forward more than 10,000 FCVs by 2025, of which 3,000 will be deployed by 2023.
As of August this year, Beijing has applied for 1,528 FCVs, including 845 medium/large buses, 272 regular logistics vehicles, 203 cold chain logistics vehicles, 202 heavy trucks, and sanitation vehicles. Includes 5 units. use a car.
Beijing is also aiming for a total hydrogen refueling capacity of over 148 tons per day by 2025, of which 126 tons will be used for FCVs. As of 2023, the city wants to be able to supply more than 74 tons of hydrogen per day, 47 tons of which will meet his FCV demand.
https://autonews.gasgoo.com/new_energy/70021764.html Beijing aims to operate 74 hydrogen fuel stations by 2025.