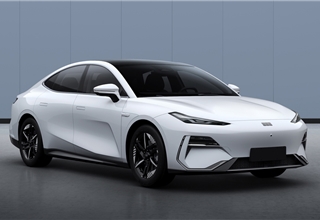 Shanghai (Gasgoo)- Geely Galaxy's inaugural model under the SEA architecture, the Galaxy E8, will be released in the fourth quarter of this year, according to a local media outlet.
This model is set to carry a 45-inch 8K "boundless" intelligent screen, the world's first model to adopt such feature, said the carmaker. It will also lead the pack with its integration of the flagship Qualcomm Snapdragon 8295 chip and Geely's all-new in-car system.
Photo credit: MIIT
The Galaxy E8 sedan has been included a catalogue issued by China's Ministry of Industry and Information Technology ("MIIT"). According to the patent images released, it exemplifies the seamless fusion of design and technology, carrying forward the essence of the "Galaxy Light" concept vehicle. Its aesthetic language draws inspiration from the ripple effect, presenting a sleek and poised stance reminiscent of a sports car.
The Galaxy E8's dimensions stand as follows: a length of 5,010mm, width of 1,920mm, height of 1,465mm, and a wheelbase spanning 2,925mm.
In terms of its intelligent driving features, the Galaxy E8 offers optional hardware devices, including roof-mounted LiDAR systems and cameras. The scope for customization extends to external aesthetics, encompassing options such as wheel rims, spoilers, and front bumpers.
Under the hood, the Galaxy E8 is driven by an electric motor supplied by Viridi E-Mobility Technology (Ningbo) Co., Ltd., boasting an impressive 200 kW of maximum power and a top speed of 190 km/h. While it presently adheres to the classification of a "pure electric flagship model," speculation remains ripe about the future potential for a dual-motor all-wheel-drive variant.
https://autonews.gasgoo.com/new_energy/70027560.html Geely Galaxy's first SEA-based model E8 slated for release in Q4