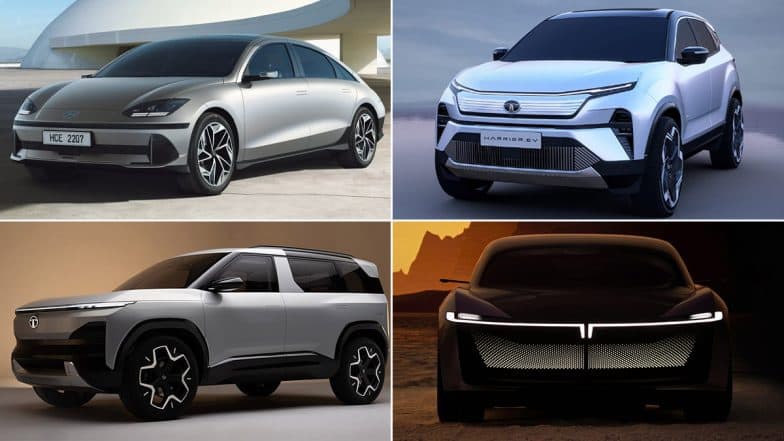 New Delhi, January 16: The ongoing Auto Expo 2023 showcased a huge array of electric vehicle (EV) models from multiple automakers. Since EVs are the driving force of the era, automakers are also focusing on offering fully electric vehicles in the future.
Having showcased countless EVs and EV concepts, many automakers are expected to launch new EVs in India in the near future. Here we take a look at some of the EV models (and concepts) that will be on display at Auto Expo 2023 and actually set to hit the Indian car market. Read on to know more. WagonR Flex Fuel version displayed by Maruti Suzuki at Auto Expo 2023. Find out more about the mechanical update and expected release date here.
Electric vehicles to be launched at Auto Expo 2023 in India:
Maruti Suzuki eVX
Maruti Suzuki, India's largest automaker, has unveiled its first EV concept, the eVX. The Maruti Suzuki eVX electric SUV concept flaunts a modern minimalist design approach. The production version is equipped with a 60kWh battery pack and offers a range of up to 550km. The Maruti Suzuki eVX-based first electric SUV base could go on sale in India in 2025.
Tata Avigna
Tata Avinya is a true futuristic electric luxury MPV concept with a cabin designed with a high percentage of recycled and sustainable materials. Shown at the ongoing Auto expo 2023, this attractive sustainable EV can certainly be expected to launch in India in the near future, given the arrival of domestic auto giant Tata Motors. .
Tata Harrier EV
The Tata Harrier EV Concept has made a big impression on SUV enthusiasts. The Harrier EV looks very similar to its ICE counterpart, but is actually a major cosmetic upgrade. It will be launched in India later this year.
Tata Sierra EV
The Tata Sierra EV SUV concept is featured in an avatar that is near production ready. Its sophisticated and luxurious styling thrilled spectators at mega motor shows. This massive premium EV will definitely enter the Indian market as a high-end product.
MG5EV
MG Motor India is determined to expand its portfolio and market share. That's why we showcased multiple alternative fuel vehicles at Auto Expo 2023. Among the EV models on display, the MG5 all-electric estate is set to go on sale in India by 2025. The MG5 EV comes with two battery pack options in the European market and has a range of up to 452km. Auto Expo 2023: MG5 All-Electric Estate Debuts in India, Check Specs and More Details Here.
BYD Seal EV
BYD (Build Your Dreams) showcased its all-new Seal flagship electric sedan at the mega event, confirming the model's launch in India. With an attractive nautical design theme, the BYD Seal offers 523bhp of power and a range of up to 700km. The BYD seal will go on sale in India towards the end of this year.
(The above article was first published on LatestLY on January 16, 2023 at 7:26 PM (IST).For news and updates on politics, world, sports, entertainment and lifestyle, please visit our website Please log on to the site. latest.com).


https://www.latestly.com/auto/auto-expo-2023-from-maruti-suzuki-evx-to-tata-harrier-ev-evs-that-are-going-to-launch-in-india-find-details-here-4720396.html Auto Expo 2023: Maruti Suzuki eVX to Tata Harrier EV. An EV to be released in India.Click here for details