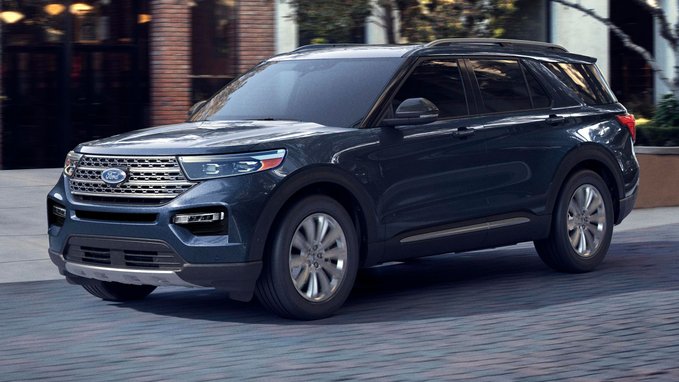 Ford has some large plans in store for the Explore in the future. The automaker's midsize SUV is expected to arrive with a refresh for the 2025 model year, but before then, shoppers will find that the 2024 Explorer is available with a smaller lineup of engines. According to an unnamed Ford spokesperson that Car and Driver spoke with, the 2024 Ford Explorer will ditch its hybrid powertrain.
The 2023 Explorer was available with three powertrains including a hybrid powertrain that combined a 3.3-liter V6 engine that's paired with an electric motor and a 10-speed automatic transmission. With an output of 318 horsepower, the hybrid engine provided more power than the standard turbocharged 2.3-liter four-cylinder engine that was rated at 300 hp, but was nearly a full second slower to 60 mph.
As a hybrid, one would assume that the Explorer Hybrid brought far more impressive fuel economy figures over the standard engine, but that wasn't the case. The Explorer Hybrid with rear-wheel drive was rated at up to 27 mpg combined. With all-wheel drive, the hybrid's fuel economy dropped to 25 mpg combined. The base turbocharged powertrain was rated at up to 24 mpg combined. The extra 3 mpg combined with the Explorer Hybrid meant that drivers were looking at saving a couple hundred dollars a year, which didn't help offset the hybrid's higher starting price tag.
According to the outlet, Ford claims that it's discontinuing the Explorer Hybrid for the 2024 model year because of high demand for the hybrid version of the Police Interceptor Utility, as well as increased demand for Fords other hybrid models. Without the available hybrid powertrain, the 2024 Explorer should continue to be available with the turbocharged four-cylinder engine and the turbocharged 3.0-liter V6 engine.
Given the lack of performance and improved fuel economy from the Explorer Hybrid, we're not surprised to see Ford discontinue the engine. The Ford Maverick Hybrid and Escape Hybrid are far better options for drivers that want to save some money on fuel.
The deletion of the hybrid engine also affects the Lincoln Aviator, which shares a lot of the same components as the Explorer and is built at the same factory. Unlike the Explorer Hybrid, the Aviator was available with a plug-in hybrid engine. Without the electrified powertrain, the 2024 Aviator will be available with a twin-turbo 3.0-liter V6 that makes 300 hp.
The 2025 Explorer is expected to arrive with a refresh. We're not sure what's in store for the midsize SUV, so we could see Ford bring an upgraded hybrid powertrain for the new model year.
Pictured: 2024 Ford Explorer (Top), 2023 Ford Explorer Engine (Middle)
Source: Car and Driver
http://www.carsdirect.com/automotive-news/green-technology/2024-ford-explorer-won-t-offer-a-hybrid 2024 Ford Explorer Won't Offer A Hybrid