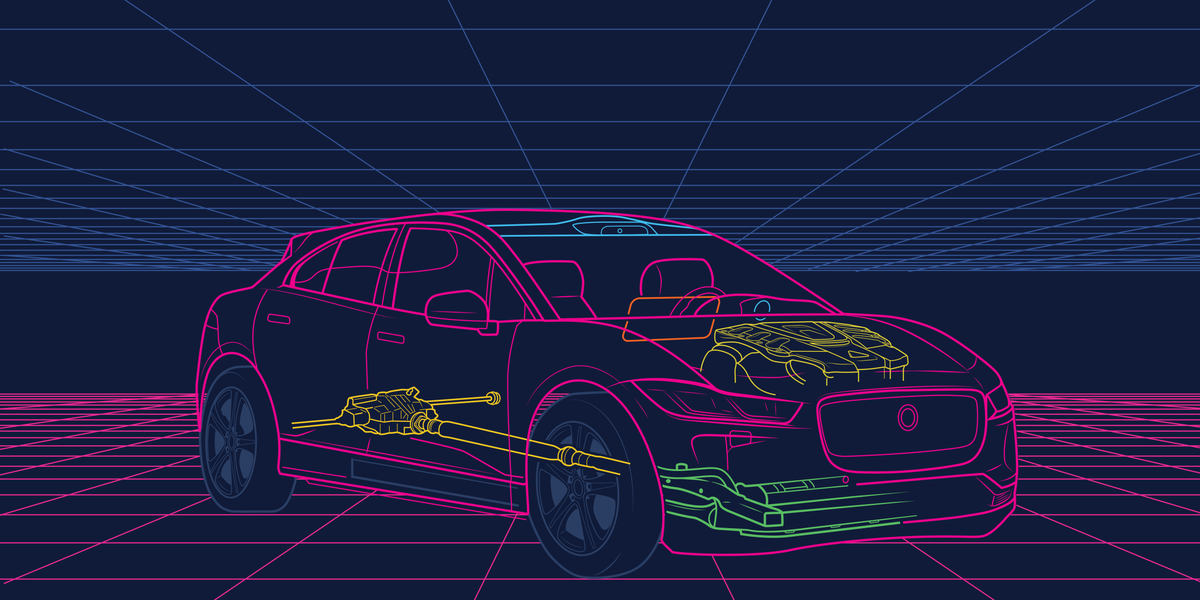 When we proffer car advice at Gear Patrol, we're often talking about the best cars you can buy. Every review, in essence, is telling you why a given car is the best option for its particular purpose relatively or, alternatively, how it missed the mark matched up against the one that is. A question we seldom ask is what the ideal car would look like.
There are many reasons for this. Part of it is that what constitutes the ideal car is subjective. Every person dreams differently. Every person has unique life needs a vehicle must meet. Part of it is that ideals bear no resemblance to how the car industry typically works.
Car brands have to sell vehicles in volume to make money. Every vehicle has a price target it needs to meet. Getting a car to production is an endless morass of compromises great and small. Would that rad new feature make the F-150 cooler? Probably. But the engineering rock star at Ford is the one who figures out how to save $75 on a vehicle Ford is about to build 4 million of.
Some manufacturers do just about everything to a high standard. With a gun to our heads, we'd tell you to buy a Honda or a Porsche. But even those brands have to cut corners somewhere. Neither would be your first choice for an easy-to-use infotainment setup.
For this project, we want to take a different tack and highlight the exceptions. These car brands may not have mastered the art of building a car in its entirety. But they do perform one task — from design to execution — particularly well. With that in mind, we're going to build the ideal car.
What does the ideal car look like?
For the purposes of the hypothetical, we're presuming infinite resources. And we're going to pay whatever it takes to summon the entire industry's collective knowledge. Would that be a silly and vain way to waste your time with ungodly wealth? Absolutely. But not as silly and vain as, say, buying Twitter in a bid to look cool online.
In the spirit of not making compromises to meet popular tastes, our vehicle will be an off-road capable wagon. Wagons — whether Americans want them or not — are Goldilocks vehicles, offering the cargo space of SUVs while not sacrificing the efficiency and handling of cars.
The closest analogy in the modern car market would be the Volvo V60 Cross Country wagon — a car that, fittingly, sells in too low of a volume to be worth fitting with Volvo's excellent Recharge PHEV engine.
Here's how we would build our ideal car.
Engine: Ferrari/Alfa Romeo
There are many ways to interpret the ideal engine. Do you want a versatile GM V8 that can power an Escalade or a Corvette? Do you want a Toyota powerplant so unkillable we don't know how long its lifespan may be? We're defining ideal as most thrilling, singular and special. The clear answer there is Ferrari.
V12s are majestic, but also dramatic overkill for real driving. So we're going to select the "Ferrari-derived" twin-turbocharged 2.9-liter V6 from the Alfa Romeo Giulia Quadrifoglio. That engine takes that Ferrari specialness and scales it down to a 503 hp package that's somewhat usable (and thrilling) on real roads.
Transmission: Porsche
Unless your new car is a new (but still quite old) Toyota 4Runner, you'll have noticed that automatic transmissions have evolved greatly. Ford and GM share an excellent 10-speed automatic. Eight-speed ZF units are nearly ubiquitous in fancy cars. But one manufacturer shines above the rest when it comes to transmissions: Porsche.
Yes, 911 enthusiasts can be hyper-traditionalists; Many still lament the switch to modern water cooling in the mid-1990s. Manual demand is still great. But Porsche's dual-clutch PDK has won them over — because it's quicker at shifting and getting back on the power than any human helmsman you could put in the front seat. It's the transmission Porsche uses for pure high-performance models like the 911 Turbo S.
The PDK is so good Porsche could afford to make buyers wait for the manual — which also happens to be perhaps the best one around. And even a car like the Cayman GTS 4.0 transitions surprisingly well to normal driving.
Chassis/Suspension: Mercedes-Benz
It's not the 1980s anymore. We're past the stage where Mercedes could build a handful of cars to a standard, not a price point. But driving a Mercedes still feels substantial and different — even if you don't opt for the pricey E-Active Body Control that monitors conditions 1,000 times per second and performs party tricks like hopping your SUV out of a situation where it gets stuck.
The bland E450 E-Class is a paragon of everyday comfort and smoothness, nearly to the point you'll wonder if you're driving an electric car. You can opt for more performance by leveling up to the AMG E53 sedan or something like the AMG GLE 63 S — the LeBron James of SUVs — that can accelerate from 0-60 mph in less than four seconds, annihilate a curvy California road and get your family to the cabin in a snowstorm. But however much those cars chase performance, they always retreat back to an excellent-to-drive baseline.
Mercedes builds cars to a price point now. But you will very rarely encounter one that's too stiff, too sloppy or imprecisely suited to its purpose. And we'd take that 10 times out of 10 against a stagecoach that can perform on track.
All-Wheel-Drive System: Acura
We're the first to tell you all-wheel-drive is overrated for winter driving; get yourself some snow tires. But we'd still want the phenomenal grip in sportier applications. There are several really great AWD systems out there; you can't go wrong with Subaru or Audi's quattro. And the VW Golf R is an all-weather monster. But Acura's SH-AWD system should be the play here.
How do you know SH-AWD is great? It's had a goofy name like "Super-Handling AWD" for nearly 20 years. The name stuck. And it's not something people make fun of regularly.
SH-AWD is basically torque vectoring AWD. The car remains front-biased for efficiency when cruising. When you enter a corner, it can send up to 70% of the torque to the rear wheels and up to 100% of the torque to either wheel. The result is — yes, we might as well say it — super handling with less steering input and more responsiveness, whether you're driving an MDX family hauler or a hybrid NSX super sports car.
That tech may not sound revolutionary because a lot of manufacturers have come out with their own torque-vectoring systems in response. But Acura has been refining SH-AWD, with characteristic Honda attention to detail, since 2004.
Exhaust Note: Hyundai N Division
Sound is an underrated part of motoring. A lot of performance cars are loud. Many have some auditory enhancement piped into the cabin; easier and cheaper than redesigning the exhaust system for resonance. One manufacturer that nails the sound is Hyundai's N Division.
The quirky Veloster N has departed the scene. But Hyundai still sells a more practically shaped alternative with the Elantra N sedan. With N mode engaged, it elicits a deep growl and punctuates that with snaps, crackles and pops on the downshift. It sounds uncouth in a way most modern cars don't — to the point California police ordered a buyer to modify his stock exhaust. The Elantra N won't beat its more refined competitors around the Nürburgring. But sounding like a good time goes a long way toward making it feel like a good time.
Exterior Design: Jaguar
One manufacturer has made aesthetics a consistent hallmark — probably to the brand's financial detriment at times. That brand is Jaguar. Harken back to the classic era and Jaguar built perhaps the most beautiful production car ever made for the E-Type. The XJ and XK120 are absolute classics. And we'll always hold a candle for Inspector Morse's stately Mark 2.
In the modern era, Jaguar has still produced notably good-looking cars. The brand has taken home recent World Car Design of the Year awards for the F-Type sports car, F-Pace crossover and I-Pace electric vehicle. Even concepts like the C-X75 have been so cool-looking they've earned their own place in automotive history — despite never being built (part of our plan would have Ian Callum returning as a consultant).
We don't know quite what's happening with Jaguar moving forward. But we can't wait to see what it looks like.
Interior Design: Jeep
Jeep won't sound like a natural fit here to anyone who drove a YJ Wrangler in the 1990s. But Jeep interiors have become more of a calling card than the brand's Trail Rated badge. And they are the major reason shelling out nearly $70,000 for a Grand Cherokee Summit Reserve or more than $100,000 for a Grand Wagoneer isn't outright laughable.
We can discuss materials, with Jeep offering multiple varieties of exquisite leather. We can talk about colors, with Jeep offering nature-inspired hues like Tupelo and Agave Blue rather than just boring blacks and greys. There's the attention to detail Jeep puts into the tactile feel of buttons and switches and natural flowing transitions. And, yes, Jeep is the only manufacturer offering a McIntosh sound system — so good your phone can't give it music good enough to make use of it.
But the real brilliance is, Jeep injects all of the quality without making the interior feel like you're in a haughty Maserati. However fancy they get, Jeep interiors still feel family-friendly, practical and usable. It's Palermo leather your ocean-dipped golden retriever will savor.
Drive Modes: Mazda
Drive modes have become a fixation and a scourge. It's easy for manufacturers to tweak the software. Thus, they feel compelled to offer maximum flexibility with a myriad of modes and customizable individual modes — even if buyers never asked for it. Who precisely needs both Sport and Sport+ modes on the new Toyota Tundra, and for what purpose?
Mazda takes a different approach. The brand often stresses its Jinba Ittai philosophy. The TLDR explanation is it's a Japanese expression about the oneness between rider and horse or in Mazda's case, driver and car. That synergy relies on the car being consistent.
Typically, Mazda doesn't offer drive modes — beyond a more aggressively mapped Sport mode. And when Mazda does use them, it has a purpose. The new CX-50 crossover branches out to four drive modes: Normal, Sport, Off-Road and Towing. Their aim with those modes is not to offer different versions of the car. It's to ensure the car performs with the same handling and characteristics in any condition.
Infotainment System: Hyundai Group
Car companies have tried really hard with their infotainment tech. Their half-cocked efforts have mostly proved the point that posing as a tech company and being a tech company are two entirely different things. Most buyers take one look, shrug and plug in their phones to use Apple or Google's interface.
Hyundai, Kia and Genesis execute the few features buyers actually want well. The touchscreen is wide and arrayed horizontally. This requires less looking down from the road and less button-pressing precision with the bigger icons. It also frees you to perform multiple functions simultaneously. Phone pairing works seamlessly. The menus don't freeze. And you don't have to sit through any goofy, gaming-quality graphic displays.
If you just want it to go away, the infotainment defaults to a soothing, minimalist screensaver mode.
Safety Tech: Volvo
Car safety isn't an important consideration. It's the most important consideration, especially if you have children. And while many companies have made great strides, the manufacturer we'd trust more than any is Volvo.
Volvo has been at the safety forefront since debuting the three-point seatbelt (arguably the most important safety innovation in automotive history) in 1959. And they haven't rested on their laurels with that reputation. Every single Volvo on sale in America last year earned the highest IIHS Top Safety Pick+ rating.
Volvo's "aiming for zero" vision is that no one should die or be seriously injured in a new Volvo. A vehicle that will help them get there is the new EX90 electric crossover arriving in 2024. It will offer Volvo's latest LiDAR and camera systems with crash avoidance and mitigation technology. And a new interior radar system may get approved to help prevent hot car deaths.
Sound Insulation: Lexus
Again, sound is an underrated part of motoring. A key differentiator between a luxury car and not a luxury car is how much road noise enters the cabin. Lexus — whether you're driving a hulking LX 600 or a more sensibly-sized NX crossover — excels at keeping that noise out of the cabin. Even agricultural-sounding Toyota hybrid engines under the hood are no match for that sound-damping. We have to recalibrate after driving Lexus cars as hopping into anything else can sound like you stepped onto a commercial airliner mid-flight.
The serene cabin is why being a "Lexus guest," even if the brand has some deficiencies in other areas, still feels like you're living the high life.
https://www.gearpatrol.com/cars/a43238616/the-ideal-car/ What Does the Ideal Car Look Like? We Frankensteined One Together