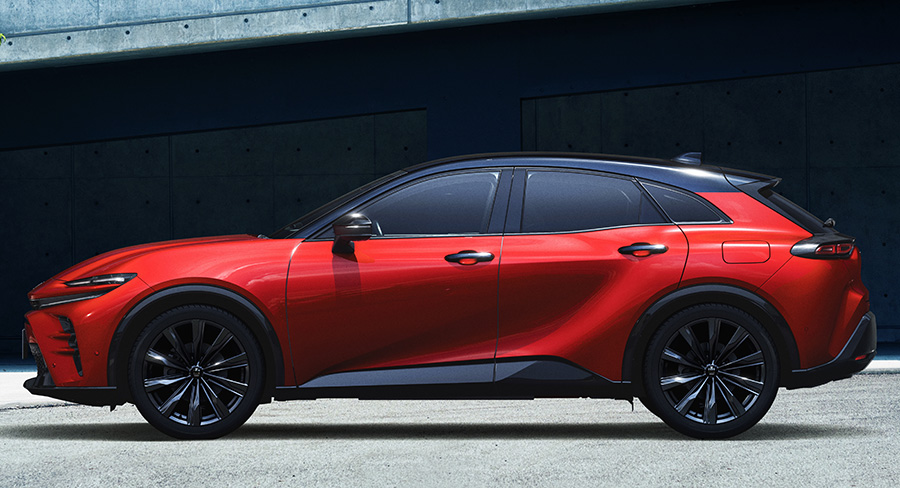 Toyota Motor Corporation unveiled its all-new Crown Sport Hybrid (HEV) model in Japan and will begin accepting orders today. The new model plans to be launched around November. Toyota also plans to launch a plug-in hybrid (PHEV) version around December, the Crown Sedan model around November, and the Crown Estate model before the end of this fiscal year (FY2024).
SPORT Z (2.5-liter Hybrid Model)
Built on the unique and unshakable Crown platform passed down over generations, Toyota's all-new Crown series comes in four models tailored to the individual values and diversity of each customer. As a global brand originating in Japan, these four individual models herald the opening of the second chapter for the Crown brand. One of them is the Sport type, which is an SUV but in a new form that offers a beautiful design that resonates with the senses together with a fun driving experience.
Key Points
The Sport SUV is a new form that comes with an exhilarating and creative ambiance in a package that is easy to enter, exit, and drive, and that offers an agile and sporty driving experience.
Sporty and dynamic design that heightens expectations for the driving experience, with a design concept that balances power and grace
Exhilaration from the first moment inside the cabin, with an interior space that makes it easy to enter and easy to drive
Fun driving experience through a balance of high-quality, flexible suspension with agile driving performance
Equipped with the latest advanced safety equipment
The details of the new Crown Sport are as follows.
Vehicle outline
1) A new form with eye-catching beauty and heightened expectations for the driving experience
Exterior design
As the most creative model within the Crown series, outstanding beauty was a non-negotiable condition when developing the Sport. To achieve this, Toyota added an exhilarating essence to simplicity, the design concept of the new-era Crown. This has elevated the design to an unprecedented level of beauty worthy of a Crown SUV with the name "Sport," with a sporty and dynamic appearance that excites at first sight.
The most characteristic element of the Sport is the rear fenders that extend dramatically outward from the D pillars to the rear tires. While the fenders increase the impression of a dynamic, low center of gravity, the large outer diameter tires highlight the car's presence and contribute to its appealing stance.
As an evolution from the Crossover, the hammerhead shark-like face keeps the narrow-lens daytime running lamps within the black area to create a sharp, fearless expression. The wide expression also presents a sportier appearance.
Like the Crossover, the Sport comes with 21-inch tires and aluminum wheels. While maintaining performance that delivers high-quality ride comfort, they are wider and larger to support the beauty of the Sport from the ground up.
Interior design
Employing an island architecture* design, the driver and passenger seats are asymmetrically coordinated to assert individuality. The driver's side is uniformly black to increase the ability to concentrate on driving, while the passenger side features a special material and color scheme to create a relaxing atmosphere.
Meter displays are grouped horizontally to minimize eye movement, creating a space that enables the driver to concentrate on the fun of driving without confusing operations.
* A design concept that groups together various functions, such as displays and gearshift, to create separate islands
Color design
A total of six monotone body colors and five bi-tone body colors are available. The bi-tone colors highlight the beautiful form of the Sport while expressing unique worldviews. The interior color scheme is tailored to diverse values, with a new Sand Brown and Black scheme that resonates with natural and flexible lifestyles built around an enjoyable driving experience.
2) An interior space with meticulous attention to detail for delivering the high quality of a Crown
The Sport has an appealing exterior that also enables occupants to enter and exit the car with grace, an act made easier due to the high hip point enabled by large-diameter tires. Meticulous attention has also been paid to the height of the rocker panels, differences in levels, and the shape of rear door trims to aid leg movement.
The Sport features Toyota's first sound-regulating ceiling, which reflects sounds within the cabin to create a space where occupants can communicate directly with each other to make conversations easier.
3) Fun-oriented driving performance that is worthy of a Crown with the name "Sport"
With excellent road holding and vibration suppression to enable the car to be driven with confidence, the Sport delivers an enjoyable driving experience that feels like communication between the driver and car. It comes with a specially configured suspension system to provide the grounding and damping force that enables the driver to accurately understand the car's intention and reactions.
In the name of Sport, this model comes with Dynamic Rear Steering (DRS) that has been optimally tuned to the car. It balances agility at low speeds with a greater feeling of stability at high speeds to deliver an enjoyable driving experience in a car that responds as expected.
2.5-liter Series Parallel Hybrid System
Like the Crossover, the Sport is equipped with a high-efficiency hybrid system designed to improve efficiency and performance. It offers improved responsiveness at low speeds and direct acceleration at medium and high speeds through effective utilization of electrical energy, thereby contributing to better fuel economy and quietness.
2.5-liter Plug-in Hybrid System
The Sport is equipped with a high-output density drive motor. In addition to the appealing acceleration that this delivers, it also provides driving force that enables front/rear load shifting and car speed control with subtle gas pedal footwork. As a result, the driver can enjoy the feeling of full control in communication with the car.
The PHEV comes with a newly developed large-capacity lithium-ion battery. This provides an extended EV-mode cruising range without compromising on interior space, which enables operation on EV mode for most daily drives.
4) Equipped with the most advanced safety and driving support systems
Safety performance
The latest Toyota Safety Sense is standard on the Sport. It includes Proactive Driving Assist (PDA), which supports the driver's deceleration and steering in response to a preceding vehicle or curve.
Other Sport features are Toyota Teammate Advanced Drive (support during traffic congestion) and Advanced Park (with remote function) to reduce driver burden under certain traffic congestion conditions* on highways and to assist with safe and secure parking.
Blind Spot Monitor (BSM) and Panoramic View Monitor (PVM) are also standard to expand safety performance. The Sport is also equipped with Safe Exit Assist (SEA), which uses the BSM sensors, plus rear vehicle proximity notification and rear-end-collision avoidance.
* Including that the driver is facing forward, and Radar Cruise Control and Lane Tracing Assist are both operating
Advanced features
The Sport comes with Connected Navigation support, which connects with the Toyota Smart Center and uses center-acquired data. However, in the event that communication is interrupted and the car is driven outside of the retained map area, the separate onboard navigation system can still be used. The high-definition 12.3-inch wide display enables clear map rendering and produces beautiful images.
KINTO
The new Crown Sport is also available through KINTO subscription services for individuals or companies.
KINTO packages include automobile insurance (optional insurance), automobile taxes, maintenance, and other car-related costs, and provides them for a fixed monthly fee. All steps can be completed either online or at dealerships, from quoting to signing of the contract. Packages for the new Crown Sport start at an easy 66,550 yen per month (including tax)*, with customers able to terminate their contract early if need be.
For details, please visit https://kinto-jp.com/kinto_one/lineup/toyota/crownsport/
The Crown Sedan and Crown Estate will also be offered through KINTO.
* When selecting the cheapest Sport Z grade package (2.5L HEV) with no additional options, when using the seven-year lease plan with no initial payment and two additional bonus payments of 165,000 yen (including tax) per year. The total price paid over the seven-year subscription period is 7,900,200 yen (including tax).
SOURCE: Toyota
https://www.automotiveworld.com/news-releases/toyota-launches-all-new-crown-sport-in-japan/ Toyota launches all-new Crown "Sport" in Japan