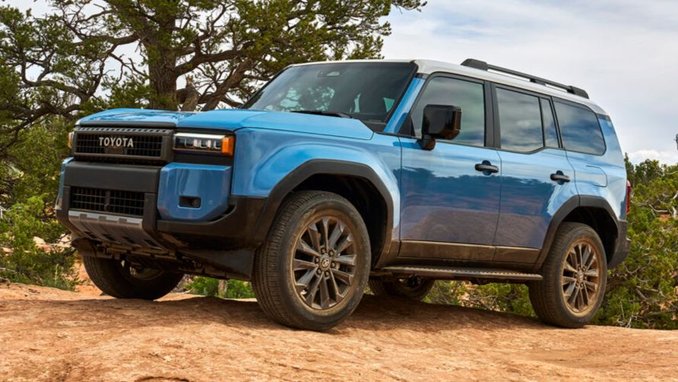 With a nameplate that spans six decades and has adorned rugged SUVs capable of going anywhere, the Toyota Land Cruiser is a legendary people carrier. After a three-year hiatus, Toyota has brought the Land Cruiser back and the new SUV marks a return to the vehicle being a small, boxy, no-nonsense off-roader. This time around, though, the Land Cruiser is only available with a hybrid engine. That could change in the near future, as reports claim that Toyota is thinking about an all-electric version of the Land Cruiser.
Every car is shifting toward being greener and more efficient. That much is apparent with the 2024 Land Cruiser, which will be available with a turbocharged 2.4 four-cylinder engine that's paired with two electric motors. The hybrid powertrain marks the first time in the Land Cruiser's history that it's been equipped with an electrified engine and is a clear sign that even iconic off-roaders can't escape the industry's push toward more efficient vehicles. While seeing the Land Cruiser arrive as a hybrid for 2024 may have surprised some Toyota fans, but a hybrid sounds like it could be the first step in the Land Cruiser's electrified future.
Speaking with Automotive News, Keita Moritsu, the Land Cruiser's chief engineer, stated that the hybrid powertrain in the new Land Cruiser won't be enough to keep the SUV around to 2030. As the outlet reports, Toyota is already looking into more electrified powertrains for the Land Cruiser, which include plug-in hybrid, fuel cell, and all-electric options. Toyota hasn't chosen what powertrain will come next, but it's already beginning to think about the future.
Each type of powertrain has its own ups and downs, though Moritsu was quick to point out some of the more prevalent issues with electric vehicles. An all-electric powertrain, at least for the Land Cruiser, brings a lot of problems. Moritsu points toward the EV's possible low-range towing in hot or frigid climates, places where Land Cruisers are known to exist. While Toyota recently announced that it's working on solid-state batteries, Moritsu claims that the technology still has a lot of development left.
"Each has difficult points and merit points, said Moritsu when talking about the different types of available electrified powertrains. "So we need to think about how to approach under the multi-pathway."
We don't expect to see a different electrified powertrain for the Land Cruiser anytime soon, as the automaker's current TNGA-F platform, which is used on its body-on-frame vehicles, will have to be updated to accommodate for newer electrified powertrains. The new Land Cruiser shares its platform with the Tacoma, Tundra, and Sequoia. It's also in the Lexus LX and all-new GX. As Moritsu put it, "we will try to adjust the platform to accommodate" when referring to more electrified motors.
One thing that makes Toyota's decision on what kind of electrified powertrain will power the Land Cruiser in the future so tricky is the SUV's wide range of appeal. The Land Cruiser is used for safaris in Africa, off-roading through the Arabian Desert, as a work vehicle in the Australian Outback, and as a people carrier for families in the U.S. The SUV, above all else, needs to be rugged and reliable. An all-electric, fuel cell, or plug-in hybrid powertrain would have to work in all conditions, climates, terrain, and regions. That seems like a difficult task, but it's something Jeep is looking to do with the Wrangler and Mercedes-Benz is exploring with the G-Class.
Pictured: 2024 Toyota Land Cruiser
Source: Automotive News (Subscription Required)
http://www.carsdirect.com/automotive-news/green-technology/toyota-could-build-a-land-cruiser-ev Toyota Could Build A Land Cruiser EV