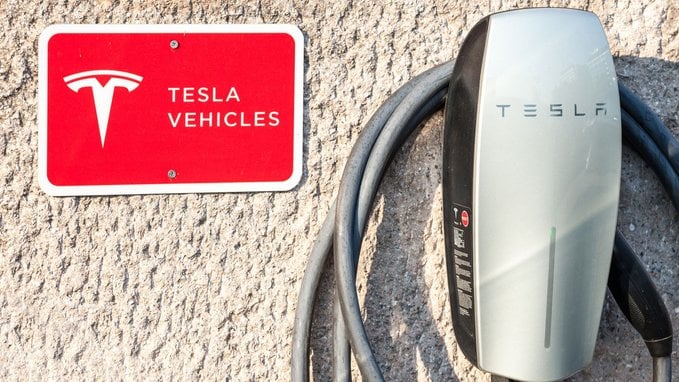 While automakers and electric charging station companies quickly moved to adopt Tesla's North American Charging Standard (NACS), Tesla is looking for a new way to further appeal to current electric vehicles owners – even those that don't have a Tesla. The automaker recently introduced a new Universal Wall Connector that has a built-in adapter, allowing EV owners to charge using either a NACS or a J1772 plug. With the new Universal Wall Connector, non-Tesla owners with an EV can charge using the brand's latest Level 2 charger without needing to use a separate adapter.
This seems like a well-timed announcement from Tesla. Recently, numerous automakers have announced that their future electric vehicles will come with a NACS plug, while Tesla has opened its expansive Supercharging network to non-Tesla EVs. With the introduction of the new Universal Wall Connector, Tesla is now able to sell its Level 2 charger to non-Tesla owners. And the included adapter ensures that EV owners that don't have a NACS plug on their vehicle will still be able to charge via the J1772 adapter.
While the new Universal Wall Connector looks similar to Tesla's third-gen Wall Connector, it has a few large differences that could have some current owners looking to upgrade. For one, there's the built-in J1772 adapter that's similar to the Magic Dock adapter that Tesla built into its latest Supercharger stations. Another large change is that users with the new Universal Wall Connector will be able to schedule or stop and start charging their EV through the Tesla app. Additionally, users will be able to view energy usage and charging history.
The new Universal Wall Connector matches the current Wall Connector by having a maximum output of 11.5-kW. Tesla claims this should be good enough for up to 44 miles of range per hour. The Level 2 charger comes with a 24-foot cable and is backed by a four-year warranty.
As one would expect, pricing for the new Universal Wall Connector is pricier than the current Wall Connector that Tesla sells. Pricing for the new charger is up to $595 compared to $475 for the NACS Wall Connector and $550 for the J1772 Wall Connector. Interested buyers can pre-order the new Universal Wall Connector from Best Buy. The charger has an expected release date of October 31st.
Source: Best Buy, Car and Driver
http://www.carsdirect.com/automotive-news/green-technology/tesla-universal-wall-connector-charger-preorders-open Tesla Universal Wall Connector Charger Preorders Open