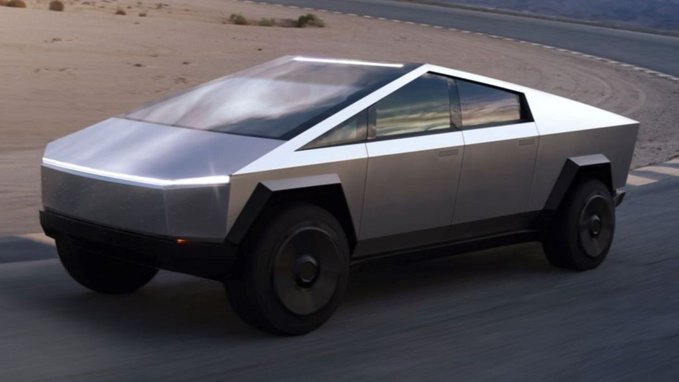 It hasn't been a good week for Tesla's upcoming Cybertruck. First, a video of a Cybertruck that had been put through a rollover test made its way to the Internet and while the truck looks to have survived whatever crash test it went through, the funky exterior design clearly took a beating. And now, a new video of a Cybertruck's wheel cover flying off the truck while it drives down the road has surfaced.
We've all seen stranded hubcaps on the road that have seemingly come off of a vehicle and left to rot in the middle of the road. But the majority of the time, wheel covers come off of older vehicles that have survived harsh winters and been neglected. Seeing one fly off of a futuristic electric pickup truck – that's not even on sale yet – from the world's most popular electric automaker doesn't bode well for Tesla or the Cybertruck.
Electrek first reported on the YouTube video that was taken by a Tesla owner through their vehicle's dashcam function. The Cybertruck was reportedly driving on the 101 freeway in San Francisco when its wheel cover flew off and nearly hit three different vehicles. Wheel covers are light, so it probably wouldn't have done a lot of damage to a vehicle, but it's still dangerous to have an object fly off of a moving car, especially at highway speeds.
This is the first time we've heard of one of Tesla's electric vehicles jettisoning its wheel covers on the road. Unsurprisingly, Tesla's wheel covers for the Cybertruck are radically different than the ones that the automaker offers on its other EVs. Unlike the wheel covers that Tesla offers on the rest of its EVs, the Cybertruck's are more of a flat disk without any large air gaps. Instead of looking like traditional spoked wheel covers, the Cybertruck's flat disk design incorporates an air gap around the top of the entire disk, so the wheel cover isn't sitting completely flat on the wheel. We're not sure if it's a design flaw or some kind of random failure.
Tesla and other automakers fit their EVs with wheel covers to make their vehicles more aerodynamic. They also help give the Cybertruck its futuristic design, as they're a lot more unique than the truck's basic 14-spoked wheels.
The Cybertruck's odd design has become a headache for Tesla and its CEO Elon Musk. The Cybertruck was supposed to go on sale in 2021, but the automaker is just starting production of the truck now. Unfortunately, the Cybertruck's design has resulted in numerous problems with fit and finish, interior noise levels, suspension, braking, sealing, and handling. Tesla isn't known for being a leader in build quality and the oddity of the Cybertruck's design is posing to be a large challenge for the brand.
Pictured: Tesla Cybertruck
Source: Electrek
http://www.carsdirect.com/automotive-news/green-technology/tesla-cybertruck-wheel-cover-falls-off-in-traffic Tesla Cybertruck Wheel Cover Falls Off In Traffic