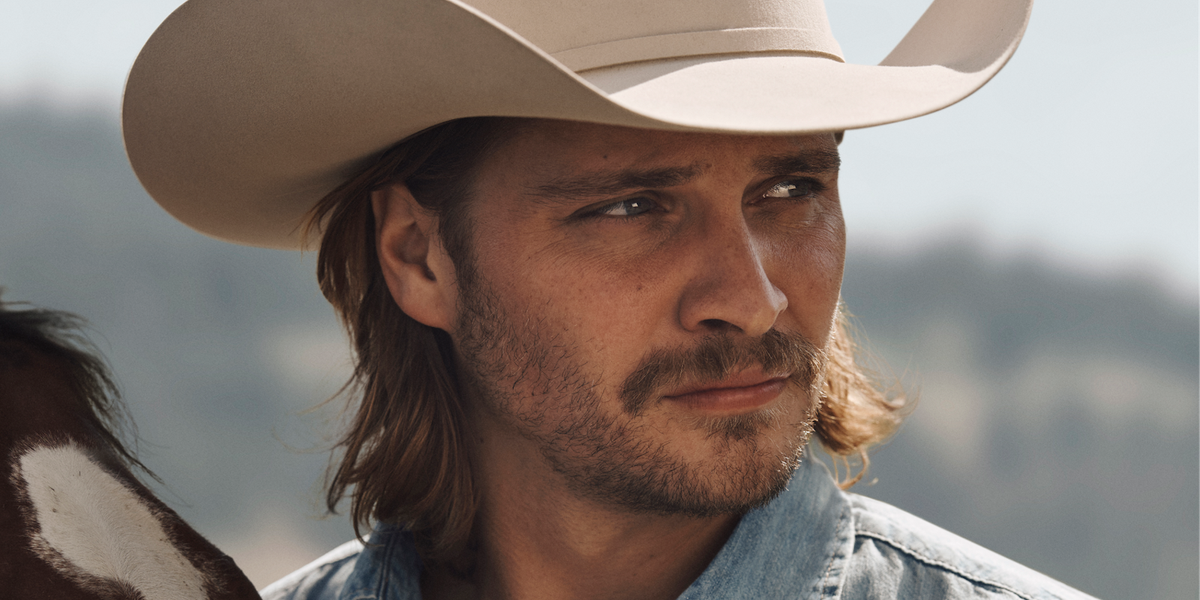 Over the past half-decade, Luke Grimes became one of the most recognizable faces on TV. In the role of Kayce Dutton on Yellowstone, a former Navy SEAL and the youngest son of ranching magnate John Dutton (played by Kevin Costner), Grimes embodies the modern Western hero: a level-headed (yet often conflicted) enforcer who prioritizes his family and loves the country life. His pragmatism, rugged looks and straight-shooting personality have put a target on his back in the show and made him a role model to fans across the country.
Before starring in the wildly popular series — it was the top television series in 2021 and an impressive 11.3 million viewers tuned for its latest finale — Ohio-born Grimes studied acting in New York City and lived in Los Angeles where he starred in American Sniper, Fifty Shades of Grey and True Blood, among other productions. But Yellowstone has had an outsized influence on his life, spurring him to leave Southern California in favor of Montana and explore country music professionally.
Alongside preparing for the attention that will come from Yellowstone's 5th season, Grimes became the new face of Stetson fragrances. While Stetson Original — a cologne with notes of citrus, cedar, patchouli, musk and amber — has been around for four decades, the brand's new campaign (shot against a backdrop of the Grand Tetons) and expanded offering of scents is decidedly rooted in the present.
"[Grimes] embodies a new, sensitive masculinity very relevant in America today," Scent Beauty, Inc. CEO Steve Mormoris said in a statement. "His love of the outdoors, and connection to the American West, as well as his superb acting and musical talents, make him a perfect spokesperson for Stetson."
To learn more about Grimes's relationship with Yellowstone, his early connection to Stetson and the process of writing his first album, among other things, we caught up with him in Nashville over video. Stay tuned for Yellowstone Season 5, which premieres on Paramount Network on Sunday, November 13th.
Luke Grimes on Putting Roots Down in Montana, Playing Kayce Dutton and Being the Frontman for Stetson Original
After years of playing Kayce Dutton on Yellowstone, have aspects of that character and that setting informed your personal life?
I mean, 100 percent. It's a big influence on pretty much every aspect of my life. I'd say, most importantly, I'd never been to Montana before doing Yellowstone. Now I live there — I've lived there for two and a half years. And that's, obviously, such a huge change because I lived in LA before. So that's informed every part of my life possible.
And, I wear cowboy boots a lot now and that's something I never wore before. I didn't know that I would like wearing them and they tend to sort of just work out for everything that I do day to day. I like to wear things that I can go outside and do some things or go out to dinner or something that can work for everything. And so cowboy boots do that.
I think anytime you play someone — anything I've ever done — you end up learning enough about a certain different lifestyle that you can appreciate different parts of it. And having played Kayce for five years now, I think this has influenced me more than any other character I've ever played.
What spurred the move from LA to Montana, and how has your lifestyle changed after the move?
We actually moved before the pandemic to Austin, Texas. We wanted to get out of LA anyway. I wouldn't have known about Montana and I wouldn't have found specifically where I moved to in Montana because it's just sort of a lesser-known place there.
We moved to Texas. We kind of liked it, the pandemic hit, and obviously, that was a big impetus for us to just not want to sit in downtown Austin forever. And so my wife and I traveled around for a while in an Airstream and had to be in Montana for work in August. And the thing with the Airstream was like: I want to live in the mountains. I want to live in the country and live somewhere beautiful. When you see it, let me know. And, let's figure out where we want to kind of put down roots. Out of all the places that we went, she loved Montana. And so we put down roots there and the gearshift was pretty huge.
The day-to-day is very different. It was hard in LA for me to not be distracted and remember what life is about in its simplest way. In Montana, it's really hard to forget that. You're a lot less distracted and your days become more about what you want your days to be about. And I feel a lot more creative there just because I have a lot more time to be less distracted. And, it just works for me. I know it wouldn't work for everyone. I'm sure some people would be bored to death out there, but I love it. I love the lifestyle change.
Kayce wears Carhartt vests and Freenote waxed-canvas jackets and Greeley hats — what are some of your favorite things to wear?
So, a pair of really good-fitting jeans — that's a staple to my wardrobe. I wear jeans every single day and a good pair of boots. Like I said before, it wouldn't have been cowboy boots, but now it is. And then, some good T-shirts, flannels and jackets.
I never had the cowboy style before, but it was always sort of rural and blue collar. It would be hard to tell that if you go back and look at like old photoshoots or red carpets because obviously, that's not what I'm wearing. But if you would have ever just seen me walking around that was sort of my look anyway. So, it's always been a sort of classic sort of masculine sort of blue-collar vibe.
What's your favorite pair of boots?
There are some great ones out there. I have some friends at this company called Burns — it's a family-owned company that makes really really good, high end, very expensive, quality cowboy boots — which are great if you want to spend the money on something that you're gonna have for life.
I wear Ariats in the show. I went and bought them before I knew anything about cowboy boots, and then they just sort of felt kind of Kayce-ish after a while so I ended up wearing them in the show. It's the same pair that I wear in the show that I wear in my life pretty much every day now. Stetson also makes very good cowboy boots.
What's your earliest recollection of Stetson, and what was it like working with the brand for its new fragrance campaign?
Stetson was always a household name growing up in southern Ohio, and where we would shop. It was always around: my dad wore Stetson cologne growing up, so I knew the smell. Smells really bring back memories for me, and so that one certainly does. And it's just a name that you hear in rural America from the time you're tiny, so I knew the brand. When they came to me with the idea of partnering with them, it just felt really right, it felt really organic. If I'm on this poster for them, I won't feel like I'm being inauthentic — it's been a part of my life for so long.
Especially now, having done the campaign and met all the great people there and knowing the hard work that goes into the products they make, the campaign ended up being really beyond expectations of what I thought it was going to be. The imagery and everything about it is just so cool and right down the alley of the things that I've been up to, so it worked out really well.
Yellowstone is full of authenticity — from the work done on the ranch to the depictions of reservation life to the cameos from musicians, rodeo stars and well-known horses — what have been some of the most interesting things you've learned on the show?
It's so much about, obviously, the cattle ranching culture, what really goes into that and the fact that it's still very alive and well. When you live in a place like LA, you don't really consider where all of your food is coming from and your meat. And with these things that you can now just push a button and they show up to your door, it's easy to forget where that all starts. You just kind of imagine people making it in the kitchen somewhere, but, keep going: where does it come from and how hard is that way of life?
It's impossibly tough and people still do it and without them doing it, then we wouldn't eat. And so it's taught me a new appreciation for ranching and farming communities and people who do that for a living.
And I didn't realize how alive and well rodeos were, and horse shows and all these things — my mind is blown. This is a big, big, big world out there, and such a lifestyle for people. I just hadn't seen it in a long time. And now obviously, living in Montana, it's all around me. And, the whole aesthetic of it, and the whole world of it, has become something that I love. I really, genuinely appreciate and love that world now.
It's one of those things where you go to your initial costume fitting for a new character putting some different things on like, 'This feels like it might be right.' And those initial fittings actually really help inform things for me. I mean, at that point, you don't really have it all figured out. You're still figuring out, who is this person? That's such a big part of it.
And I think the first time I put that jacket on, I was like, 'Oh, this feels right.' This kind of starts to paint a picture of what this guy might look like and who he is, you know? This jacket looks like he's had it his whole life. He probably grew into it a little bit — he's a 'if it ain't broke, don't fix it' kind of a guy.
I've loved those sort of wax canvas jackets for a long time and that's a great one. It's got this really cool wool lining, which, because we shoot in the summertime isn't the greatest thing at all times. But it's a really beautiful wool lining, too — it's just an awesome-looking jacket.
You've gotten to work with Kevin Costner and Taylor Sheridan who are both big personalities and have very exacting ways of doing things. What have you learned from working with them?
I think anytime you're around people that have been that successful in the way that you are trying to be successful — anytime you're around such iconic people — it's inspiring. And obviously, everyone has their different methods, their different ways, but you can certainly see a through-line in the work ethic, how they carry themselves, how professional they are, how hard they work and what it really takes to have a career like that.
I've learned that you can go as far as you want to go if you put the work in and if you are really earnest about why you're doing what you do, and what you're really trying to do. The thing that's inspiring for me about Taylor [Sheridan] is that everything he's doing has a goal in mind to shed a light on this Western heritage that's really important to our way of life and also these Native stories that people really wouldn't know anything about unless they were on a show like this, about missing Indigenous women and what a thing that is and how it happens all the time. That's always been inspiring to me to watch: not only to just get successful for the sake of success but to use it to possibly leave a mark on the world. And so those are the kinds of things I try to take away.
Did working with Ryan Bingham on the show help spur your interest in pursuing music further or has this been something you've always wanted to do?
It's been something I've always done. I've always played music. I've been in bands since I was 10 years old — church bands first and then not-so-churchy bands after that. It's just always been something I've done, but acting was always the day job, that's the business of it all, and I just played music on the side as something that I loved. And honestly, it was as simple as someone approaching me and saying, 'I've heard that you're into this. Send me some stuff.' Then one thing leads to another and I got an opportunity to do it a little more professionally. And I wanted to give it a shot.
I've actually known Ryan [Bingham] for a lot longer than I've been doing the show. We're not the closest of friends, but I've just known him around and always loved his music and been such a fan. I'm a big fan of country music in general, whether that be the more well-known stuff that the masses know or the underground stuff — more in the Bingham vein. I kind of just love it all. So [the music] sort of happened organically and I'm trying to try my best just to enjoy it and not let the professionality of it take over or make it a job.
What is the creative process like developing songs for your first album?
It's interesting, I'd never been on Music Row in Nashville before — I didn't understand how this town works. And it's been really amazing just seeing how the community of Nashville is. You go on a lot of co-writes, getting in rooms of people you've never met, and you spend a day trying to come up with something out of nothing. It's a really amazing way to spend the day — I enjoy it a lot. I know some people have different feelings about that sort of process, but I think it's awesome. Not only are you meeting these amazing songwriters and really creative, talented people who've written a lot of the songs that you know, now you're trying to do it with them. It's awesome.
I'm also just writing some stuff on my own. It's sort of just a process of trial and error at this point to kind of figure out where in that spectrum does my music lie? You know, you've got guys that will only ever write every word themselves. And then you have people that have never written a song who become very successful in country music and where am I going to be there? I'm just trying not to judge it too much or get in its way. I'm just trying to make something that's honestly, organically me. I'm right in the middle of that process right now.
https://www.gearpatrol.com/style/grooming/a41740040/luke-grimes-stetson/ Luke Grimes Is the New Face of Stetson. We Talked With the 'Yellowstone' Star