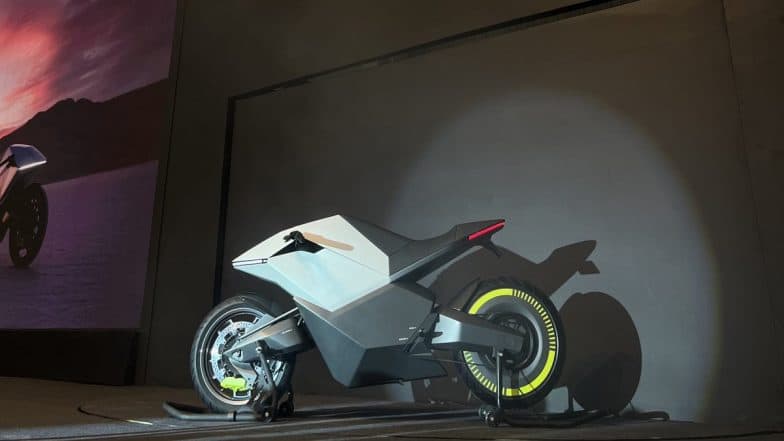 Mumbai, August 16: Ola celebrated Customer Day on August 15, 2023, and teased the electric superbike, Ola Diamond Head. It was not the only vehicle to be launched or teased that day, but it was the one that got most people excited for the future. It would be futuristic if we have to summarize Ola Diamond Head in one word.
While the expected launch date of the bike is more than a year away, we have some updates about it. So get ready as we dive into the world of Ola Diamond Head, and give you a glimpse into the future of motorcycling. Ola S1X+ Launch: Know Price, Features and Other Key Details of Ola's New E-Scooter.
Ola Diamond Head Expected Specifications
On August 15, 2023, Ola held the "End of Ice Age Event, Part I", where it launched the Ola S1X, S1 X+, S1 Air, and S1 Pro 2nd Gen. At the same event, the company teased four electric bikes- Cruiser, Adventure, Roadster, and Diamond Head. While all of these look great and futuristic, the Ola Diamond Head is the most good-looking and unique vehicle in the company's lineup.
Ola Electric CEO Bhavish Aggarwal even said that Diamond Head "will truly define super sports biking" worldwide. He added that the "future of motorcycling" will be built in India. Ola S1X: Know All About Ola's New E-Scooter's Features, Variants, Price and Other Details.
The super sports bike looks incredibly edgy and does feel like it's straight from a movie set. However, the bike's design will remind you of Tesla's Cybertruck. It's straight lines, and the conical front is enough proof that it is made for those looking for absolutely serious speed.
The Diamond Head has a digital dashboard where bikers can find information relating to driving stats. It will have dual discs at the front and a single disc at the back. The mono shock is a bit bent. Its LED strip headlamp contributes to its unique look.
Ola Diamond Head Launch Date and Expected Price
While there is no precise information about the launch date, it was hinted that the bike might arrive sometime at the end of 2024. As for the expected price, early rumours suggest it will be priced at around Rs 3.50 lakhs.
(The above story first appeared on LatestLY on Aug 16, 2023 06:52 PM IST. For more news and updates on politics, world, sports, entertainment and lifestyle, log on to our website latestly.com).


https://www.latestly.com/auto/ola-diamond-head-unveiled-ola-teases-super-sports-electric-bike-know-expected-launch-date-price-and-specifications-5344880.html Ola Diamond Head Unveiled: Ola Teases Super-Sports Electric Bike, Know Expected Launch Date, Price and Specifications