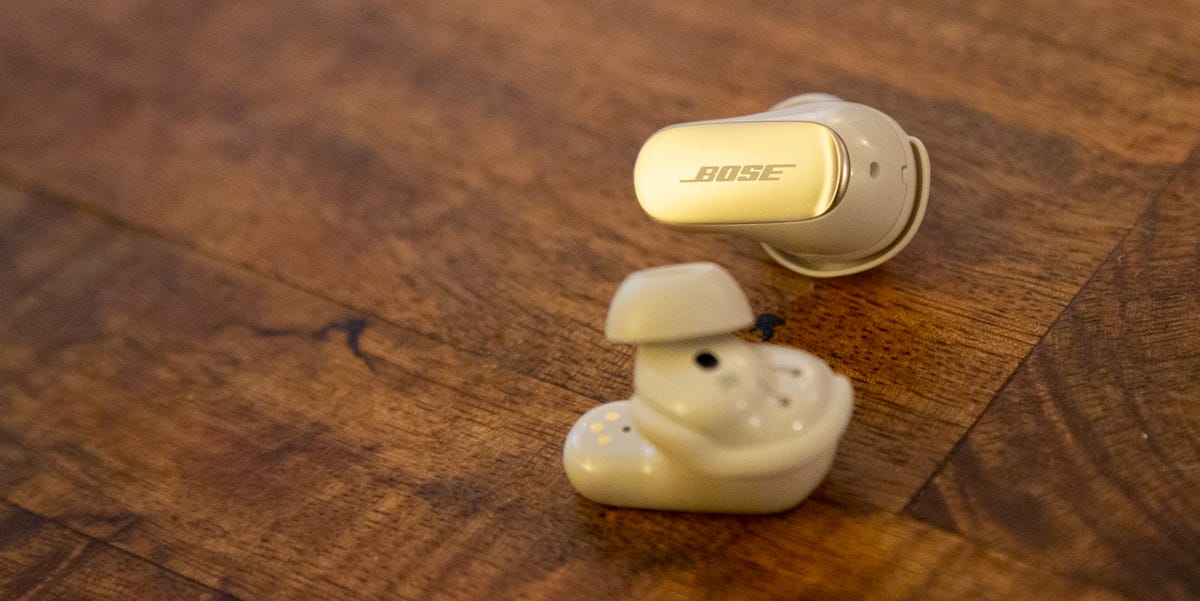 We live in a golden age of headphones. It's hard to believe that, just a decade ago, wireless earbuds were a rarity, with most of us still battling the Gordian knots in our pockets every time we wanted to listen to a song or watch a video in public. Then, of course, in 2016, Apple created the AirPods — and much as the iPhone effectively took the smartphone from niche product to commonplace, earbuds sans wires became the new norm.
Yet unlike the iPhone — which, in case you forgot, has 56 percent of the smartphone market in the U.S. — Apple has an absolute ton of high-quality competitors for the AirPods family. These days, there are a raft of selections to be found, ranging far and wide in price, quality and features.
Among the fiercest of foes is Massachusetts-based audio equipment maker Bose. The company has been consistently rolling out quality noise canceling headphones for decades now, but in recent years, earbuds have become an increasingly important part of their portfolio. For 2023, they're bringing out the latest in their QuietComfort line: the Ultra models, which rolled out in autumn 2023 in both wireless over-the-ear and earbud forms. I took the latter out for a spin to see how they hold up.
Bose QuietComfort Ultra Earbuds: What We Think
Bose's new flagship wireless earbuds live up to their name: they're quiet, and they comfortable. Whether they're ultra-quiet and ultra-comfortable is a matter of debate, but I found them to score high marks in both categories. The new spatial audio feature is a fun addition that adds a bit more nuance to listening, even if it's not necessarily worthy of upgrading from another recent pair of Bose ANC earbuds. With a price tag of $300, of course, these headphones come with high expectations; overall, though, they more than meet them.
To learn more about our testing methodology and how we evaluate products, head here.
The QuietComfort Ultra earbuds excel at noise cancellation

Active noise cancelation, or ANC, has become fairly common in headphones these days — both the over-the-ear type and the in-ear buds, and I've had a few chances to try out different brands and types of the tech. Still, I have to admit it was genuinely impressed when I popped the QuietComfort Ultra buds in my ears the first time … and the second … and the third.
Flip on ANC, and even the stress-inducing thrum and thrash of Midtown Manhattan ambient noise fades away to almost nothing. Compared with my Apple AirPods Pro (2nd Gen), the Ultras are noticeably quieter; ambient conversations are muted, tire and engine noise all but vanishes, and honking horns and screaming people go from jarring to gentle. And that's without even turning on music; flip on your tunes or a podcast, and outside sounds are effectively gone. (For the record, this is I don't really recommend walking around New York City with noise canceling on, unless you fancy being hit by a vehicle.)
Immersive Audio is a (slightly) unique take on spatial audio
The big attraction with this newest generation of Bose's QuietComfort headphones is the arrival of Immersive Audio, the brand's new spatial audio system. If you've used any headphones with spatial audio before, you're familiar with the basic idea: turn it on, and instead of seeming to come from inside your head, the sounds you're listening to now appear to come from a fixed place in space — for example, the tablet or television you're watching a video on.
With Immersive Audio, Bose took things a step farther by adding the option to uproot the spatial audio from a perceived single point in space. Now, if you're thinking, wait, doesn't that defeat the purpose? — well, sort of yes, sort of no. Immersive Audio mode, in essence, makes it sound as though the music is all around your head, rather than inside it. Think of it like standing in the middle of a circle of speakers, all tuned to direct the music at you in perfect balance.
Somewhat annoyingly for such a bold new feature, the QC Ultras always default to traditional listening every time you fire them up. To enable it, you have to boot up the Bose Music app on your smartphone (you did remember to download that app, right?), tap to access your earbuds, tap again to bring up the Immersive Audio menu, then tap again to enable your preferred choice. You can also set up a shortcut, though: using the app, you can adjust the controls so that pressing and holding the shiny part of the left earbud cycles them through the Immersive Audio modes.
The QuietComfort Ultra earbuds are, indeed, comfortable
Comfort may not be the first factor that comes to mind when considering headphones, but it's a key one: if they're not comfy in your ears, you won't use them. Here, Bose has done an excellent job making something that feels pleasant in the ear for long stretches of time. Credit goes in part to the combination of different-sized eartips and "stability bands," the latter of which are soft rubber piece that follow the lower edge of where earbud meets earlobe. You can swap in whichever size works for you of each, ensuring a better fit.
The QC Ultras stay in my ears more firmly than my AirPods Pro, which I often find myself fidgeting to stuff back into my ears as they slowly work themselves loose with every move of my jaw. I didn't exercise in them — they're rated IPX4, which is ostensibly sweat-resistant, but I'd be hesitant to put that to the test against a real cardio workout — but seeing as how they work fine while walking, I'm guessing they'd stay put through a casual jog or bike ride.
These earbuds aren't small, and neither is their case
That comfort and potent noise cancelation comes at a cost, though — these earbuds are on the large size for the breed. Not obnoxiously so, at least for me; if anything, their substantial size makes it easier to adjust them in your ears without accidentally tapping the touch-sensitive (emphasis on sensitive) side control.
But their size, in turn, means the case also needs to be on the big side in order to fit them and enough battery to recharge them on the go. It's both wide and thick — more than twice as thick as a new iPhone. If you already carry a small arsenal of gear in your pants pockets, the addition of this lump might be a little too much.
They're not cheap, either
With an MSRP of a buck under $300, the QC Ultra earbuds are about $50 more than Apple's official price for the AirPods Pro, and $100 or more than the AirPods Pro currently cost you from retailers like Best Buy. (As of this writing, they're currently $189 at Walmart.)
Then again, so are the Sony WF-1000XM5 earbuds, which are the most direct competitors to these Bose buds, and the Master & Dynamic MW08 are the same price too — and you can spend even more on the likes of the Bowers & Wilkins PI7 S2 if you want. Still, if all you're really looking for are noise canceling wireless earbuds, you can pick up a good pair for around half the price of the QC Ultras or less.
Bose QuietComfort Ultra Earbuds: Alternatives
As mentioned above, Sony's WF-1000XM5 are very closely aligned in size, shape, features and price. The Sennheiser Momentum TW 3 offer incredible sound quality — we rated them best in class for it — and while their MSRP is $280, they're often found for just $200 on the likes of Amazon. The Beats Studio Buds+ and Nothing Ear (2) are two solid choices leading the resurgent charge of transparent tech. And, as you probably pieced together over the course of this review, there's also the AirPods Pro, which offer more seamless integration with Apple products and cost only two-thirds as much.
https://www.gearpatrol.com/tech/a45711573/bose-quietcomfort-ultra-earbuds-review/ Bose QuietComfort Ultra Earbuds Review: Better Than AirPods Pro?