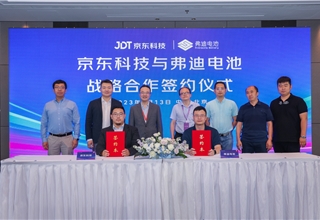 Shanghai (Gasgoo)- On July 13, 2023, JD Technology, a business group under JD.com, and FinDreams Battery Co., Ltd., which is wholly-owned by BYD, signed a strategic cooperation agreement in Beijing, setting the stage for a deep and fruitful collaboration in various sectors such as battery swapping, micro vehicles, electric drive, consumer 3C products, civil batteries, and energy storage, according to a post on FinDreams Battery's WeChat account.
Photo credit: FinDreams Battery
FinDreams Battery will empower JD Technology in terms of product development and operation, integrating battery swapping and three-wheel vehicle resources. This expansion will extend JD's battery swapping services from logistics scenarios to a comprehensive outdoor coverage for its customers.
The two companies will initiate their logistics scenario market demand expansion as a pilot project in Beijing before extending it nationwide. JD Technology will contribute its market insights and advantageous resources, while FinDreams Battery will provide high-tech, high-quality, high-value products, and superior system services. Leveraging their respective strengths in technology, funding, talent, management, market, channels, and industry chains, they will strengthen their cooperation in branding, market development, technology, and product offerings. Together, they aim to explore efficient and pragmatic business models, enhance their sustainable development and innovation capabilities, and actively contribute to the global new energy revolution.
Lei Lei, General Manager of the Consumer Battery Division at FinDreams Battery, stated that through the operational cooperation with JD Technology, it will further expand the business-end application scenarios of FinDreams Battery's battery swapping services. FinDreams Battery will provide support in multiple areas, including JD's charging stations, logistics parks, and roadside sites, creating an integrated electric vehicle energy supplement network covering "commuting + logistics + stations." This network will significantly enhance the convenience, timeliness, safety, and reliability of battery charging and swapping services.
https://autonews.gasgoo.com/new_energy/70028188.html JD Technology, FinDreams Battery to team up on multiple fields including battery swapping