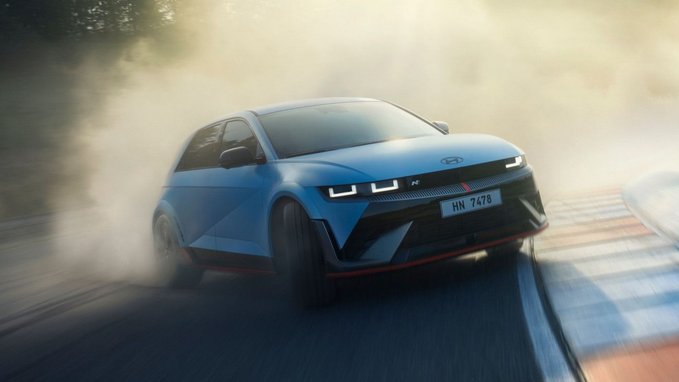 Most people will find the Hyundai IONIQ 5 to be a fun EV to drive. With a maximum of 320 horsepower and 446 lb-ft of torque, his IONIQ 5 goes from 0 to 60 mph in about 4.5 seconds, which feels fast enough. Hyundai has worked hard to develop the high-performance IONIQ 5N, which finally made its debut at the Goodwood Festival of Speed. It's easy to assume that his new IONIQ 5N is a Hyundai version of the high-performance Kia EV6 GT, but that's far from the truth.
IONIQ 5 N is the most powerful car hyundai sold to customers. It is equipped with two electric motors producing 601 horsepower and 545 lb-ft of torque. With N Grin Boost enabled, the EV puts out 641 horsepower and hits 100 mph in just 3.4 seconds. Hyundai's 0-90 mph times tend to be conservative, so expect actual sprint times to be faster. On long enough roads, EVs can reach top speeds of 161 mph.
No one can complain about the IONIQ 5 N's performance, but the EV's best feature is e-Shift programming. The system simulates gearshifts by momentarily interrupting the electric motor's torque and is intended to mimic an eight-speed dual-clutch automatic transmission. This is an EV where you can experience the thumping feeling when shifting down and up, and the internal combustion engine sound with N Active Sound. It's the first time we've seen an EV with a system that mimics a conventional transmission, and Hyundai introduced it to create a more enjoyable driving experience for enthusiasts.
Drivers can find multiple drive modes in the IONIQ 5 N, but the more unique ones include Race, Endurance and Drift Optimizer. N Race Mode also includes a Sprint Mode that maximizes the IONIQ 5 N's performance and allows the EV to take advantage of all available performance. Endurance helps manage the IONIQ 5 N's power output, battery performance and regeneration to help you stay on track longer. Finally, the N-Drift Optimizer mode helps the driver maintain his angle of drift thanks to the integrated Torque Kick Drift feature that simulates the clutch kick of a rear-wheel drive petrol car. The IONIQ 5 N also has two battery preconditioning modes that ensure your car's battery components are optimized to maximize your car's potential.
While standard Ionic 5 is available in a 77.4 kWh battery pack, but the IONIQ 5 N's battery pack has improved battery chemistries, increasing the amount of energy available from the same battery pack to 84 kWh. Hyundai has improved battery chemistry in its larger battery packs to bring in more available energy, but don't expect the IONIQ 5N to lead the lineup forward when it comes to range. Hyundai hasn't released official figures yet, but the standard IONIQ 5 with rear-wheel drive and a 77.4kWh battery pack can go up to 303 miles on a single charge. The dual-motor model has a range of 426 miles. The IONIQ 5 N is expected to have a range of less than 250 miles.
When it comes time to slow down the IONIQ 5N, this electric SUV relies on the biggest brakes Hyundai has ever put on a car. This EV features a four-piston caliper that clamps a 15.7-inch rotor at the front and a 14.2-inch rotor at the rear. For the record, these brakes are louder than others. Kia will fit EV6. The IONIQ 5 N also features its own brake cooling ducts for a continuous supply of cool air to the brakes.
Compared to the EV6 GT, the IONIQ 5 N features its own unique suspension setup with 3-position electronically controlled dampers, bushing tolerances, spring tuning and suspension calibration. Hyundai also enhanced the IONIQ 5 N's handling capabilities with 42 additional welds over the regular IONIQ 5, and equipped the EV with an integrated drive axle inspired by the World Rally Championships, giving the car Strengthened steering column. The IONIQ 5 N also features a specially tuned N R-MDPS (Rack Mount Motor Driven Power Steering) system that provides enhanced feedback and more direct steering.
Don't get me wrong. Hyundai is very serious when it says the IONIQ 5N is for track use. The EV is equipped with fat Pirelli P-Zero Performance tires, a wider stance, a more aggressive exterior design, active aero and stiff seats. We're very excited about this EV and we're sure the enthusiasts are too. We've known for some time that Hyundai is developing a high-performance version of his IONIQ 5, but the IONIQ 5 N surprises us. Hyundai not only improved the performance of the IONIQ 5, but also developed an EV that is more fun to drive.
The IONIQ 5 N will be available in early 2024. Pricing hasn't been announced yet, but we believe it could be over $65,000.
Pictured: 2024 Hyundai IONIQ 5N
http://www.carsdirect.com/automotive-news/green-technology/hyundai-ioniq-5-n-performance-may-be-worth-waiting-for Hyundai IONIQ 5N performance may be worth the wait