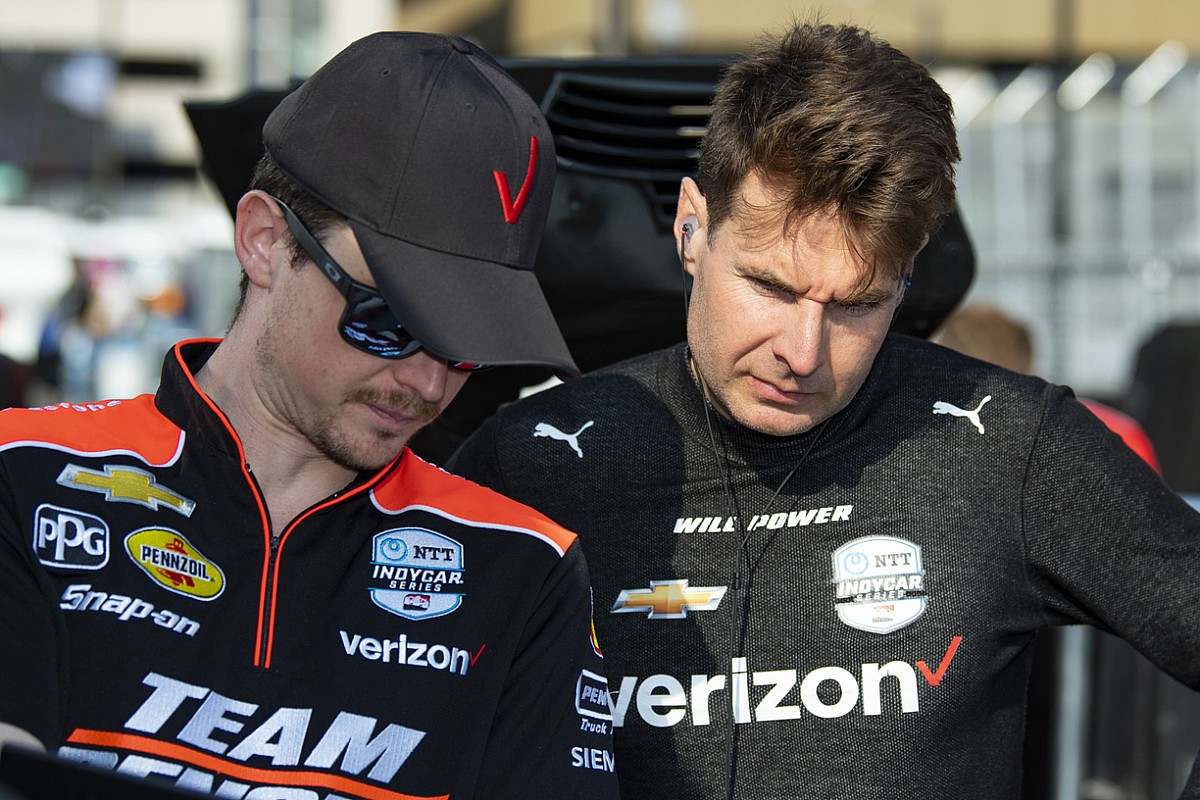 Six-time champion Power's car had to be rebuilt after bizarre crash at Saturday morning practice session Scott Dixondid not see the Australian coming after spinning and allowing a pass for Grosjean.
Dixon then immediately drove into the path of Power, wrecking both cars. Power pushed his shoulders against fellow Indy 500 winners, leading to an altercation.
This happened shortly after Grosjean drove his power into the grass at over 150 mph.
When interviewed by NBC Peacock after failing to advance after Q1, Power lashed out at Dixon, Grosjean and the run-off of the Road America truck – car crashed on carousel exit was thrown into the air.
"This course starts badly. They do a terrible job here," he said. "They need to restart the game.
"Dixon's behavior this morning made me angry and ruined our weekend. It was a terrible act."
Scott Dixon, Chip Ganassi Racing Honda, Will Power, Team Penske Chevrolet Accident
Photo Credit: Jeffrey M. Miller / motorsport images
Power was delayed in qualifying after a hectic repair left a loose tool in the cockpit, and there was a violent scene in the pit lane as the team tried to find the tool.
"The guys did a great job. Unfortunately I was the last one to leave because the driver was there, but everyone worked together and did a great job," he said. added. "We went out there and did the best we could.
"It's really difficult in this field when you're behind the 8-ball. You don't know where the aero balance is with the new wing and the new floor, so it was very frustrating because I felt so fast this morning, it's just a disappointment." I did. Really disappointed.
"And Grosjean is a bastard for what he did in practice. He needs a punch in the face."
Grosjean was not available for an interview on the matter as he left the pitlane shortly after a difficult qualifying run. He too, this time suffered a rough flight after being launched by a collision on the exit of Turn 1 run-off.
After returning to the pits, Grosjean declared the car "broken".he will start at 19:00thwith power 22nd and Dixon 23rd.
https://www.autosport.com/indycar/news/will-power-grosjean-needs-a-punch-in-the-face-after-practice-clash/10484312/?utm_source=RSS&utm_medium=referral&utm_campaign=RSS-ALL&utm_term=News&utm_content=uk Grosjean 'needs a punch in the face' after practice clash