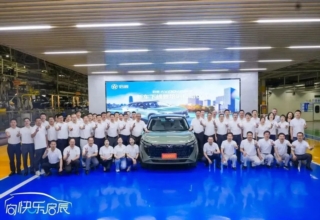 Shanghai (Gasgou)- On May 8, Dongfeng Nissan turned off the production line of the first Venucia V-Online DD-i super hybrid vehicle at its car plant in Zhengzhou, capital of Henan province. The model is expected to hit the market in the first half of this year.
The Super Hybrid V-Online is Venucia's first vehicle to use DD-i Super Hybrid technology and is also Dongfeng Nissan's first PHEV model, responsible for leading the brand's transition to new energy vehicles. .
Photo courtesy of Dongfeng Nissan Venucia
Positioned as a plug-in hybrid electric SUV, the Venucia V-Online DD-i features a simple yet powerful exterior design with the front and rear fenders slightly protruding from the body surface.
In addition, the model is equipped with a range of intelligent in-car features such as multi-dimensional courtesy mode and the ability to wake the car with a virtual smartphone key. It also features the V-Link intelligent connectivity system and other smart combinations.
The V-Online DD-i uses a plug-in hybrid system with a 1.5L engine and an electric motor to achieve 0-100km/h acceleration in 7.8 seconds. Thanks to the 18.4kWh battery pack, it has a range of 110km on battery power alone. The vehicle has a total range of 1,132km.
https://autonews.gasgoo.com/new_energy/70022764.html Dongfeng Nissan Venucia's first V-Online DD-i super hybrid SUV rolls off the line