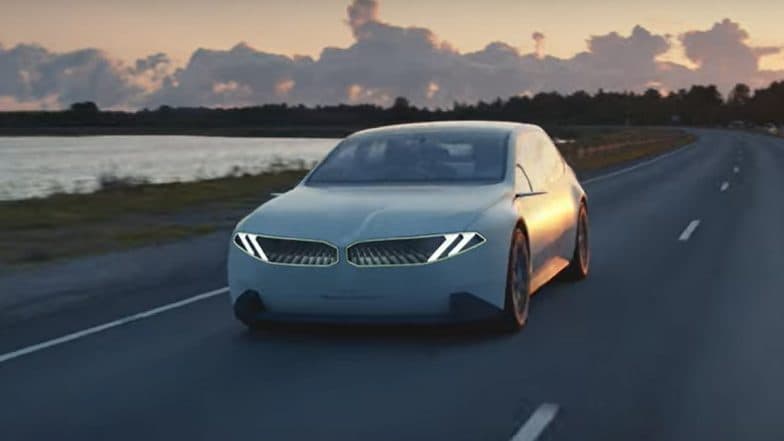 New Delhi, September 4: The BMW Vision Neue Klasse EV concept has been showcased at the ongoing Munich Motor Show. The new Vision Neue Klasse offers the best preview of the future EV lineup from the house of the German luxury automotive giant.
The futuristic concept model showcases BMW's approach to its future electric vehicles (EVs) with radical design changes and advance technological prowess. Read on to know all the key details about this stunning EV concept. Honda Elevate SUV Launched in India; from Price to Powertrain to Features, Here's All You Need to Know.
BMW Vision Neue Klasse EV Concept – Design
BMW will offer an EV model in each of its primary market segment presence, as it targets over a quarter of its global sales to be generated by electric vehicles by 2025. Hence, the luxury auto behemoth is paying major focus on its radical upcoming EV range. The Vision Neue Klasse concept showcases a luxury EV saloon design and its name is a reference to brand's premium sedans and coupés which reshaped its identity back in the 1960s. BMW plans to launch 6 Neue Klasse EV models in a span of 2 years.
The new BMW Vision Neue Klasse concept is futuristic, spectacular and evolutionary with its similarities with the quirky i Vision Dee Concept that was showcased at CES 2023.
The primary design elements of the Vision Neue Klasse concept includes broader, horizontal version of the brand's signature kidney grille, extensive glasshouse, sleek LEDs and a "monolithic" silhouette offering the Neue Klasse design a simplistic and minimalistic appeal while still being highly futuristic.
The concept's grille panels are meant to house a multitude of sensors and cameras to offer high-level of ADAS tech package, while the light clusters show different colours and patterns depending on the selected drive mode. Mercedes Benz Electric G-Wagon SUV Could Be Launched Soon, Details Here.
BMW Vision Neue Klasse Concept – Technical Details
The Vision Neue Klasse' under the hood and tech details of the are yet to be revealed, as they would differ for the various upcoming EV models based on the concept. However, the company has revealed that the future Neue Klasse EVs would offer more range, faster charging capabilities and will be more efficient than the current cars.
BMW's new Gen6 lithium-ion batteries will be 20% more energy efficient and would be able to charge at up to 270kW to deliver up to 1000km of range on a single full charge.
(The above story first appeared on LatestLY on Sep 04, 2023 07:07 PM IST. For more news and updates on politics, world, sports, entertainment and lifestyle, log on to our website latestly.com).


https://www.latestly.com/auto/bmw-vision-neue-klasse-concept-a-glance-at-bmws-future-evs-heres-all-that-you-need-to-know-5387808.html BMW Vision Neue Klasse Concept: A Glance at BMW's Future EVs; Here's All That You Need to Know