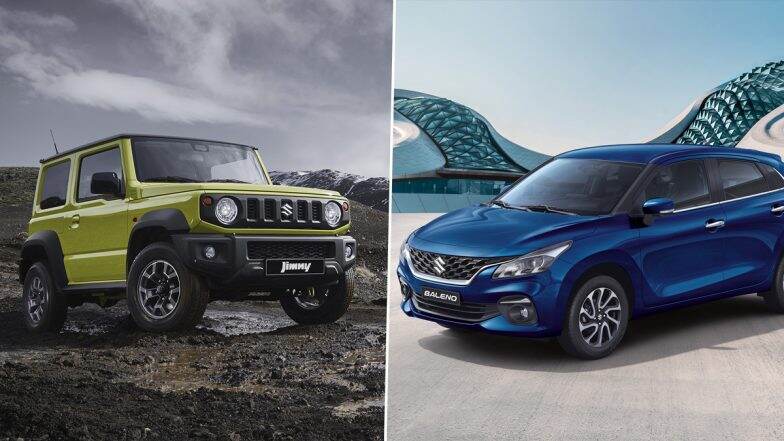 New Delhi, December 29th: India's leading car giant Maruti Suzuki is gearing up for the upcoming year 2023 in a big way. According to the latest report, the Indian and Japanese auto giants are planning to make the prices of their much-anticipated SUV models, the Jimny 5-door and Baleno Cross very competitive. Beat the market competition and further attract Indian car buyers.
Maruti Suzuki is expected to continue to dominate the country's growing and increasingly popular SUV market with its new SUV garnering significant sales. Let's take a closer look at these new Maruti SUV contenders. Auto Expo 2023: From the Kia EV9 to the MG Air EV, India's biggest auto show showcases six stunning EVs that will captivate.
Maruti Suzuki Jimny and Baleno Cross – Details:
Maruti Suzuki India Limited (MSIL) is highly expected to unveil its Jimny 5 door SUV and Baleno Cross crossover at Auto Expo 2023 in January.

The Maruti Baleno Cross has been shown multiple times at previous Auto Expo editions as the YTB concept SUV.

The Jimny 5-door and Baleno Cross expand the company's SUV portfolio, which currently has two SUV models – the Grand Vitara midsize SUV and the Brezza subcompact SUV, both launched and refreshed this year.

According to reports, the upcoming YTB concept-based Baleno Cross, which could also be called Flash or Blaze, will be unveiled at Auto Expo 2023.

The Baleno Cross is speculated to come with an AWD (all-wheel drive) system borrowed from Grand Vitara's flagship SUV and its Toyota counterpart, the Urban Cruiser Hyryder.

It is also rumored that the YTB/Baleno Cross will be India's cheapest AWD SUV at launch.

The upcoming 5-door Jimny SUV will also be equipped with a 4WD system, as it is supposed to be a full-fledged off-road SUV.

The Baleno Cross or Flame/Blaze is a hatchover or softloader based on the Baleno platform, with styling heavily inspired by the Grand Vitara flagship SUV.

A 1.2-liter, 4-cylinder K12C petrol engine powers the teak-lined Baleno Cross to deliver more power than the Baleno premium hatchback, which offers 88 Bhp and 113 Nm of peak torque. is expected. There may also be a more powerful turbo petrol mill.

Most interestingly, Maruti Suzuki is expected to sell both the Jimny 5-door and the Baleno Crossover at affordable prices, reportedly under Rs 10 million. The new generation of Hyundai Verna will be unveiled in January 2023. Click here for details on the design, specifications and release schedule.
According to the latest report, Maruti Suzuki aims to produce a record 2.5 million passenger cars in the next financial year, of which 750,000 will be SUVs. The company is therefore making all the necessary preparations to consolidate its leading position in the country.
(The above article first appeared on LatestLY on December 29, 2022 at 8:25 PM (IST).For news and updates on politics, world, sports, entertainment and lifestyle, please visit our website Please log on to the site. latest.com).


https://www.latestly.com/auto/auto-expo-2023-maruti-suzuki-jimny-and-baleno-cross-suvs-expected-to-launch-at-affordable-prices-check-specs-and-other-details-here-4648904.html Auto Expo 2023: Maruti Suzuki Jimny and Baleno Cross SUVs to go on sale at affordable prices.Click here for specs and other details