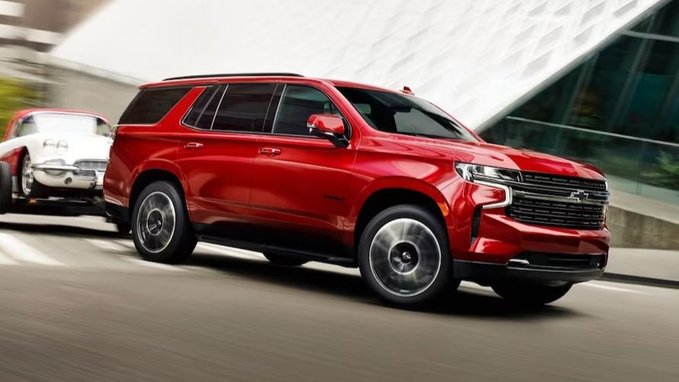 General Motors is in the midst of raising prices for most of its large SUVs and the 2024 Chevrolet Tahoe is the next model in line to get a price hike. Just like the larger Suburban, pricing for the Tahoe is going up by $2,000 for the 2024 model year.
With the price increase, the 2024 Tahoe will start at $56,200 (prices don't include destination). As a refresher, the 2023 Chevrolet Tahoe used to start at $57,200. Chevy's $2,000 increase for the Tahoe affects the entire lineup. That means the range-topping High Country trim will start at $76,400.
Based on the order guide, we don't see any major changes for the 2024 Tahoe. Chevrolet hasn't released official information on the Tahoe's price increase for the 2024 model year, so we don't know why the automaker increased pricing for the large SUV. We suspect inflation plays a large role in the higher price tag, while the ongoing UAW strike, which recently hit a GM assembly plant in Texas where the Tahoe is built, probably plays a role in the price increase, too.
With the price increase, the Tahoe is pricier than the Ford Expedition ($57,420) and Nissan Armada ($52,495), but more affordable than the Jeep Wagoneer ($63,595) and Toyota Sequoia ($62,725). The price increase doesn't affect the Tahoe's placement in the large SUV segment, but it may have some shoppers looking to more affordable options.
Order guide data reveals that the 2024 Tahoe will continue to come with a 5.3-liter V8 engine as standard, while a 6.2-liter V8 and a turbocharged 3.0-liter six-cylinder diesel engine are optional. Power ranges from 277 horsepower in the diesel engine to 420 hp in the 6.2-liter V8.
Tech features will also stay the same for the 2024 Tahoe. The SUV will continue to come with an eight-inch touchscreen, wireless Apple CarPlay and Android Auto, a Wi-Fi hotspot, six audio speakers, six USB ports, Bluetooth, and voice recognition as standard. Available features will include a 10.2-inch touchscreen, a 12.3-inch digital instrument cluster, navigation, a wireless charging pad, and 10 audio speakers.
Pictured: 2024 Chevrolet Tahoe
http://www.carsdirect.com/automotive-news/industry-news/2024-chevy-tahoe-prices-increasing-by-2-000 2024 Chevy Tahoe Prices Increasing By $2,000