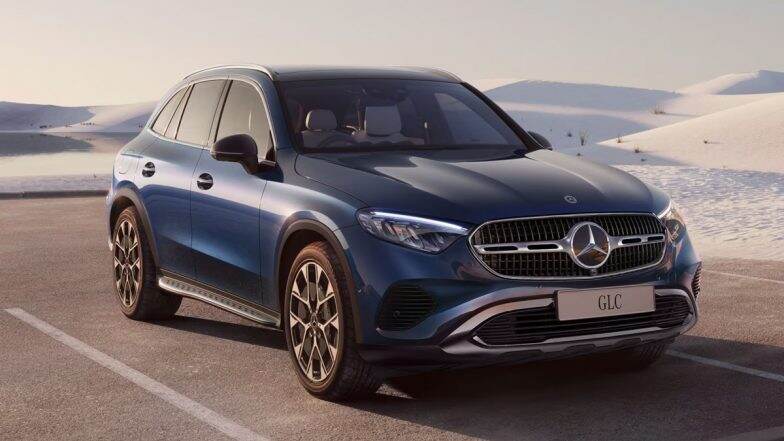 New Delhi, July 21: Mercedes-Benz has unwrapped the GLC SUV models in the GLC 63 S version and the AMG GLC 43 version. Globally, the AMG versions do away with the V6 and V8 in favor of a very performance-focused four-cylinder hybrid powertrain.
The new Mercedes-Benz GLC 43 offers an average peak power of 310 kW and a peak torque of 500 Nm, allowing it to accelerate from 0 to 100 km/h in just 4.8 seconds. The GLC 63 S, on the other hand, delivers a whopping 500kW of power and 1020Nm of torque to do the same sprint in just 3.5 seconds. Kia Seltos facelift launched in India. Check out pricing, features, and other important details.
Both the GLC 43 and GLC 63 S share an AMG mild-hybrid drivetrain, with a 2.0-liter turbo four-cylinder petrol engine paired with a 48-volt electric motor adding an additional 10kW and 150Nm, powered by a 6.1kWh battery and mated to a 9-speed automatic transmission.
However, the GLC 63 S has a plug-in hybrid system with a 150kW electric motor and a two-speed transmission on the rear axle, combined with an even larger turbocharger to deliver some notable figures. Tesla self-driving technology update: Elon Musk plans to license full self-driving technology to another automaker.
New Mercedes-Benz GLC Details
Design-wise, the Mercedes-AMG GLC models feature the AMG-specific front grille with vertical struts, front apron, large air intakes and chrome trim, integrated sill panel and diffuser rear apron for the GLC 43 and diffuser board for the 63 S.
The cabin of the GLC AMG models is equipped with Artico man-made leather/micro-cut AMG microfiber with AMG graphics and seat upholstery in pure leather and nappa leather, as well as AMG performance seats, steering and other equipment options. The MBUX infotainment system also features AMG-specific displays and functions, standard on the GLC 63 S and optional on the GLC 43.
Mercedes-Benz has yet to announce a release date or pricing for the new GLC model. Meanwhile, Mercedes-Benz India has already announced that the new SUV "GLC" will be introduced to the Indian car market on August 9, 2023, and at the same time, official bookings will start. The new Mercedes-Benz GLC SUV can be pre-booked for INR 1.5 lakh advance tokens.
(The above article first appeared on latestLY on July 21, 2023 at 5:54 PM IST. Please log on to our website for news and updates on politics, world, sports, entertainment and lifestyle) recently.com).


https://www.latestly.com/auto/mercedes-benz-amg-glc-models-glc-43-and-glc-63-s-globally-unveiled-new-glc-suv-bookings-open-in-india-5282812.html World premiere of the Mercedes-Benz AMG GLC models GLC 43 and GLC 63 S.Pre-orders for the new GLC SUV open in India