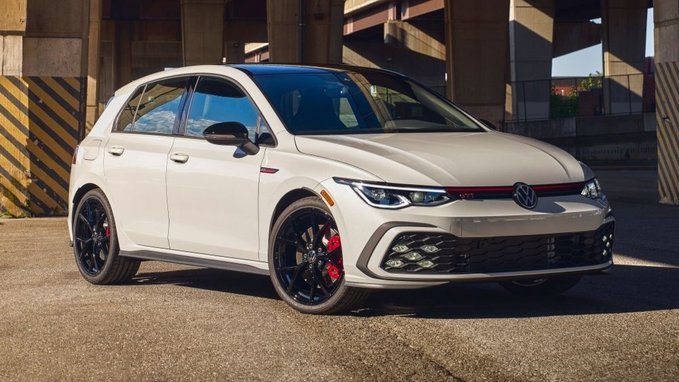 The automotive landscape is changing for automakers, as the majority of them continue to chase sales with SUVs and focus on electric vehicles for future products. It's no different for Volkswagen, which saw 83% of its sales come from SUVs in 2022. With SUVs being the most popular body style, EVs becoming the future, and VW looking to cut costs, the German automaker has announced that 2024 will be the last year for shoppers to get a Volkswagen GTI or a Golf R with a manual transmission.
After the 2024 model year, the GTI and Golf R will only be available with an automatic transmission. To mark the final year of the manual gearbox, VW has introduced a special edition called the Golf GTI 380. While VW is calling the Golf GTI 380 a special edition, it's actually a special-edition equipment package that's equipped on every 2024 GTI with a manual transmission.
The Golf GTI 380 doesn't come with a lot of special touches over a regular GTI with a manual transmission from last year. The hot hatchback will be available in a unique exterior paint job called Graphite Gray Metallic, come with 19-inch wheels, and have high-performance summer tires. Other exterior changes include a black roof and black exterior mirrors. Power for the 2024 GTI will continue to come from a 241-horsepower turbocharged 2.0-liter four-cylinder engine. One large change that VW has made to the 2024 GTI is including adaptive suspension standard on all hatchbacks with a manual transmission.
Volkswagen didn't provide any official information on why it decided to drop the manual transmission after the 2024 model year. We're sure there are a few reasons behind the decision. It could be down to a low take rate, tighter emissions in Europe, VW's goal to reduce costs, or the need to simplify its lineup. The world's changing and VW simply doesn't see a place where a GTI or a Golf R with a manual transmission continue to stick around.
While the GTI is getting a special equipment package for 2024 for models with a manual transmission, VW hasn't announced anything special for the Golf R yet. The 2024 Golf GTI 380 will go on sale this fall with pricing starting at $33,635 and going up to $41,775.
Pictured: 2024 Volkswagen Golf GTI 380
http://www.carsdirect.com/automotive-news/industry-news/volkswagen-gti-manual-transmission-going-away Volkswagen GTI Manual Transmission Going Away