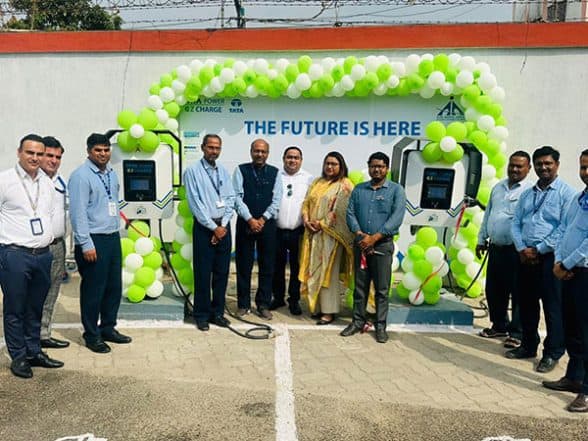 Mumbai, May 27: With the aim of providing an electric vehicle (EV) charging solution, Tata Power has teamed up with the Ranchi Airport Authority (RAA) to install two public 30 kw chargers at Virsam Munda Airport.
According to a statement from Tata Power, the partnership will support Tata Power's efforts to accelerate EV adoption in India and the government's efforts to support the electrification of private and public vehicles by providing the necessary infrastructure. It is said to be in line with the Electric Mobility Mission Plan (NEMMP). US EV Charging Stations: Mercedes-Benz, MN8, ChargePoint Partners, $1 Billion Project to Install 400 Electric Vehicle Fast Charging Hubs.
Level 1 chargers are one of three speed level charging devices for electric vehicles (EVs), the other two being fast EV chargers and fast EV chargers. EV Charging Revenue to Exceed $300 Billion Globally by 2027: Report.
According to the company, Level 1 chargers use standard household outlets such as AC to power the EV and offer lower charging speeds of 2.3 kw to 2.5 kw. This charging device is suitable for his EV owner who picks up or sees off passengers while waiting for family, friends, EV taxis or pre-booked taxis.
Virendra Goyal, Head of EV Charging Business Development at Tata Power, said: "We are very proud to work with the Ranchi Airport Authority to install EV chargers. We are where our customers are. We will continue to work hard to introduce EV charging infrastructure in the future.In fact, EV charging infrastructure is." "This is another step towards realizing our shared commitment to sustainability and reducing our carbon footprint. We will definitely address the anxiety of distance."
According to the company, Tata Power has an extensive network of more than 3,778 public and private EV chargers, with these networks supplying power across 350 towns and cities, shopping malls, famous It covers various highways, subway stations, etc. Also included are over 39,000 home chargers and 234 bus charging points.
KL Agarwal, Airport Director of Birsamunda Airport Ranchi, said, "We are delighted to be partnering with one of India's most reputable and well-known energy companies. With this first installation of EV chargers, Ranch's hundreds of EV businesses will We want to serve people and families," he said. People dropping off or picking up family and friends at the airport can now charge their vehicles from a trusted source without the hassle of waiting. "
(This is an unedited, auto-generated article from a syndicated news feed. Latest staff may not have changed or edited content body)


https://www.latestly.com/agency-news/business-news-tata-power-collaborates-with-ranchi-airport-to-install-ev-charging-points-5158093.html Tata Power collaborates with Ranchi Airport to set up EV charging points