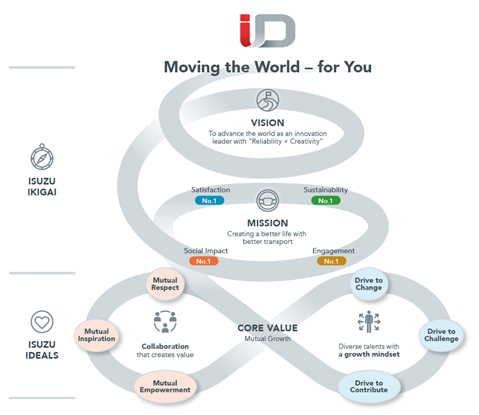 Isuzu Motors Limited (head office: Yokohama City, Kanagawa Prefecture; President and COO: Shinsuke Minami; hereinafter "Isuzu") has announced a new corporate philosophy, "ISUZU ID."
Isuzu Motors Limited (head office: Yokohama City, Kanagawa Prefecture; President and COO: Shinsuke Minami; hereinafter "Isuzu") has announced a new corporate philosophy, "ISUZU ID."
"ISUZU ID" to transform corporate culture by emphasizing ESG management

The logistics industry is undergoing a rapid transformation that is said to occur once every 100 years, and business operations are becoming increasingly complex. Isuzu is working to solve social issues while building a leading position among commercial vehicle manufacturers. To that end, it is important that each Isuzu Group employee shares the same values ​​and works together. We have established a new corporate philosophy, "ISUZU ID," as a guideline for all employees of the Isuzu Group.

◆

Purpose: Move the World – For You
This declaration expresses our determination to go beyond our corporate philosophy*. We focus on transportation solutions for all goods and people by creating value that enriches society while addressing pressing issues such as carbon neutrality and changes in the logistics environment.

◆

VISION: Moving the world forward as an innovation leader of "Trust x Creativity"
Isuzu will bring together the power of "trust" and "creativity" that Isuzu has cherished to lead innovation and bring about positive change in response to various issues facing society.

◆

Mission: Create a better life with better transportation
Isuzu aims to be No. 1 in "satisfaction," "sustainability," "engagement," and "social impact," and advances society together with all stakeholders.

◆

Core Value: Mutual Growth
Each employee is encouraged to embrace challenge and change with a willingness to contribute. Combined with respect, trust and empowerment, this fosters innovation and mutual growth.

The ISUZU ID logo represents a ribbon that connects individual values ​​to overall purpose. It also unifies the behavior and spirit of the group and flexibly changes shape in response to various changes and challenges.
"ISUZU ID" promotes the acceleration of efforts toward carbon neutrality and DX (digital transformation) in logistics. Isuzu will invest 1 trillion yen in innovation by 2030.

1

Carbon Neutral – Isuzu will:
・Expansion of lineup of electric models
・Enhanced services that contribute to the decarbonization of customers and society
・Accelerate efforts to reduce carbon dioxide emissions and recycle resources at business sites

2

DX in Logistics – Isuzu does the following:
・Advancement and expansion of connected services
・Technology development for commercialization of self-driving cars
・Search for new services that open up a new era of transportation
By investing in innovation, Isuzu will continue to work with alliance partners and customers in a spirit of cooperation and transparency. More details on our decarbonization and digital transformation efforts will be announced soon.
Isuzu is committed to being an innovation leader and providing solutions for a better world, in line with its purpose of "Moving the World – For You".
*

Previous Corporate Philosophy: Isuzu Always Means Best – A Global Team Committed to Exceeding Expectations and Delivering Inspiring Products and Services
sauce: Isuzu
https://www.automotiveworld.com/news-releases/isuzu-unveils-new-corporate-philosophy-isuzu-id-to-drive-esg-focused-management-and-accelerate-innovation/ Isuzu Announces New Corporate Philosophy "ISUZU ID" to Promote ESG Management and Accelerate Innovation