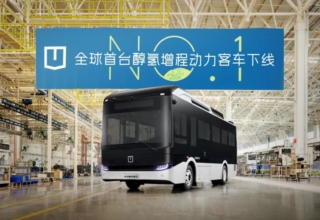 Shanghai (Gasgoo)- On July 26th, Geely Xingji, an independent bus brand under Geely's Farizon New Energy Commercial Vehicle Group ("Farizon Auto"), saw its in-house developed methanol-hydrogen-powered range-extended city bus roll off the production line at the plant in Nanchong city, Sichuan province, the first-of-its-kind in the world, said the automaker.
Photo credit: Farizon Auto
The latest move marks a significant breakthrough in the R&D and application of critical new energy bus technologies in China, said Farizon Auto.
The 8.5-meter methanol-hydrogen-powered range-extended city bus aims to address the industry's range anxiety issues and open up a new path in the field of new energy vehicle. According to Farizon Auto, this bus model adopts a brand-new methanol-hydrogen hybrid technology with a high compression ratio of 12.5 and low friction technology, achieving a thermal efficiency of up to 41.5%. It can automatically match the optimal control strategy under different operating scenarios, ensuring the most efficient consumption of methanol and electricity and optimizing the overall performance of the vehicle. Additionally, the bus features a comprehensive upgrade in both interior and exterior design, enhancing safety, comfort, and intelligence aspects.
Methanol fuel boasts high combustion efficiency, clean emissions, and renewability. It is the only energy source among various new and clean energies that remains in liquid state under normal temperature and pressure, ensuring safe and convenient use. At the same time, methanol production has broad sources and a large economic scale, so that the entire industry chain can achieve sustainable development. Developing the methanol economy not only contributes to carbon neutrality but also promotes energy structural transformation and guarantees national energy security.
https://autonews.gasgoo.com/new_energy/70026017.html Geely's Farizon Auto sees world's 1st methanol-hydrogen-powered range-extended city bus roll off line