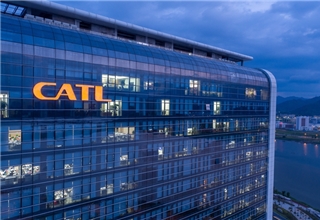 Shanghai (Gasgoo)- Sichuan Yahua Industrial Group Co., Ltd. ("Yahua Group"), a Chinese company principally engaged in the manufacture and sales of civil explosives, announced on Aug. 3 that its wholly-owned subsidiary, Yahua Lithium Industry (Ya'an) Co., Ltd. ("Ya'an Lithium"), has signed an agreement CATL as the latter plans to for purchase from it battery-grade lithium hydroxide products. 
Photo credit: CATL
According to the agreement, from Aug. 1, 2023, to Dec. 31, 2025, CATL will purchase a total of 41,000 tonnes of battery-grade lithium hydroxide products from Ya'an Lithium. The annual delivery quantities will be executed according to the mutually agreed terms, and the product prices will be determined based on the pricing method agreed upon by both parties.
Ya'an Lithium was founded in 2017, located in Ya'an Economic and Technological Development Zone, with a registered capital of 500 million yuan. It engages in the production, sales, and research of lithium products, employing over 600 people. Presently, it possesses an annual production capacity of 50,000 tonnes of battery-grade lithium hydroxide. Its products have been integrated into the global power battery giants and new energy vehicle enterprises, establishing long-term partnership with Tesla, LG, BYD, BTR New Material Group, Xiamen Tungsten Co., Ltd., and Easpring.
The cooperation between Yahua Group and CATL began in Mar. 2023, and the total value of similar transactions between the two companies has reached approximately 300 million yuan.
Regarding the latest signing of this agreement, Yahua Group expressed optimism about its performance for the current year and believes it will benefit the financial results and business performance for the years 2024 to 2025. Furthermore, it will establish another strong sales channel for future lithium salt production expansion and product releases, contributing to the improvement of the company's lithium salt customer structure and promoting the steady development of Yahua's lithium industry.
https://autonews.gasgoo.com/new_energy/70026359.html CATL to procure battery-grade lithium hydroxide products from Yahua Group