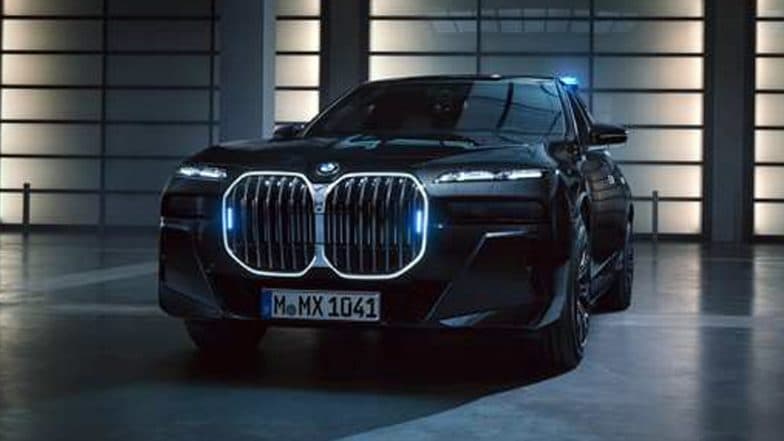 New Delhi, August 11: German luxury auto giant BMW has unveiled its latest i7 and 7 Series Protection range in its automotive protection lineup. The new BMW 7 Series Protection is different from other high-end vehicles, as it's meant for special people who need highly specialised protective measures.
The BMW Protection range of vehicles go through the revered VR9 treatment, which provides a very high level of ballistic certification for the civilian cars. Read on to know more about the newly introduced BMW i7 and 7 Series Protection models. Mercedes Benz GLC 2023 Launched on August 9; Here's All You Need to Know.
BMW 7 Series & i7 Protection Models' Details
The German luxury automaker has released images of the new reinforced BMW 7 Series with badly cracked window screens, which are intact in their places, while the whole body is shown with numerous bullet hits, but continues to be impeccably luxurious and safe on the inside. The 'Protection' model of the 7 Series is markedly different from the stock version, as it is designed to endure extreme hostile conditions. Its body has been crafted from solid armoured steel which can thwart the attacks from X 54 R ammunition, which is capable of piercing armours. The 7 Series Protection seals its fuel tank on the event of an attack to thwart any chances of fuel loss or fire. Toyota Rumion MPV Unveiled in India; Checkout All Key Details About the New Rebadged Maruti Suzuki Ertiga Model.
On the other hand, the BMW i7 Protection is the world's first all-electric protection luxury sedan. The exterior of these vehicles is crafted formed from hot-formed steel alloy with specially armoured roof and underbody to offer protection against aerial or ground bullet and explosive attacks.
The Protection models come with special 20-inch alloys and Michelin PAX run-flat tires, so they can travel at 50 miles per hour with totally flat tires. The Protection models are no different visually from their standard i7 and 7 Series models to maintain discretion, and their run-flat tires and flag holders are the only visual differences.
BMW i7, 7 Series Protection Models Boast Of Unmatched Built Quality For Optimum Protection:
BMW has armoured the new electric i7 and V8 7 Series. Meet the BMW i7 and 7 Series 'Protection' cars: a pair of luxury road-going tanks → https://t.co/ahHbCVhbeM pic.twitter.com/yWrwoIbWQP

— Top Gear (@BBC_TopGear) August 9, 2023
On the inside, the 7 Series and i7 Protection models offer high-end luxury with premium features like BMW Curved Display, reclining seats with footrests, 28-speaker sound system and a whole bunch more.
The European-exclusive BMW i7 and 7 Series Protection models' pricing details are not disclosed, but are expected to be over $168,500 for the US market.
(The above story first appeared on LatestLY on Aug 11, 2023 08:54 PM IST. For more news and updates on politics, world, sports, entertainment and lifestyle, log on to our website latestly.com).


https://www.latestly.com/auto/bmw-7-series-i7-protection-models-unveiled-with-unmatched-protection-against-armour-piercing-ammunition-and-explosive-attacks-5334256.html BMW 7 Series, i7 Protection Models Unveiled with Unmatched Protection Against Armour-Piercing Ammunition and Explosive Attacks