Technology
Volvo Trucks builds electrified charging corridor in California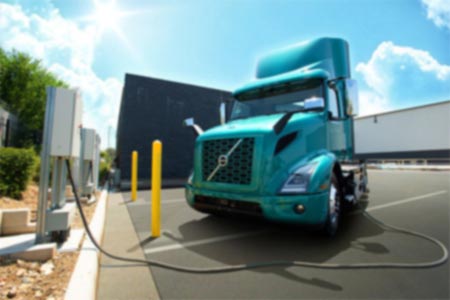 Volvo Financial Services, Volvo Technology of America, Shell Recharge Solutions, TEC Equipment,
Affinity Truck Center and Western Truck Center will develop a publicly accessible medium and heavy duty electric vehicle (MHD EV) charging network that will connect some of California's largest metropolitan areas.
With a $2 million award under BESTFIT from the California Energy Commission (CEC), the Electrified Charging Corridor Project addresses a key barrier to long-range MHD EV deployment and accelerates widespread adoption. The project will start in 2022, with all five stations expected to be online by the end of 2023.
"This project opens the door to a truly electric freight future, where zero-tailpipe-emission medium and heavy trucks are no longer limited to short-haul base-return operations; Overall, we can reach far and wide," said Peter Bohove, president of Volvo Trucks North America.
"We are pleased to work with these pioneering truck dealers this year to begin construction of the Electric Charging Corridor project, which will successfully integrate battery electric trucks into our operations, including our Volvo VNR Electric model. With CEC helping drive and deliver this project, we will see accelerated progress with ripple effects across the industry."
"Volvo Financial Services will enable the leap to zero-emission transportation with its innovative fleet, while addressing the need for private charging infrastructure," said Patrick Shannon, president of North America, Volvo Financial Services. We are working on developing new solutions and business models to minimize the cost of investment.
Over the next 18 months, the project will provide high power to multiple existing Volvo truck dealerships in Central and Northern California, including TEC Equipment Oakland, TEC Equipment Dixon, Western Truck Center in Stockton, Fresno and Affinity Truck Center in Fresno. Deploy the charger. Bakersfield.
These serve as an extension of the chargers already available at the TEC Fontana and TEC La Mirada locations in Southern California. With publicly accessible charging stations strategically placed at convenient intervals, the fleet utilizing battery-electric trucks will complete a zero-pipe-emission route between Southern, Central and Northern California. I can.
"This investment in electric truck charging aisles is critical to accelerating customer confidence in today's commercial battery electronics.
Shell Recharge Solutions is pleased to join this innovative charging infrastructure initiative. This will reduce range concerns for electric truck customers traveling through Southern, Central and Northern California."
The goal of the Electrified Charging Corridor Project is to enable convenient charging of:
Small business fleets that want to avoid a large investment in a large charging infrastructure on their own site.
Fleets looking to operate electric vehicles through rental and short-term lease opportunities.When
Fleets that require an OEM-neutral location to conduct "opportunity charges" along their routes.
"The Energy Commission is pleased to support the Electrification Charging Corridor project that will help California achieve its goal of zero emissions from trucks.
This project will showcase a refueling solution for zero-emission long-distance trucking and has the potential to stimulate additional investment in similar corridors statewide, nationally and globally," said Patty, CEC Commissioner. Monahan said.
CEC's BESTFIT Innovative Charging Solutions program works to fund projects that demonstrate innovative technology solutions and accelerate the successful commercial deployment of electric vehicle charging for light, medium and heavy duty applications. .
Volvo Trucks offers a full range of medium and heavy duty trucks and complete transport solutions for discerning professional customers. Customer support is provided through his global network of dealers with 2,200 service points in approximately 130 countries. Volvo trucks are assembled in 13 countries around the world.
In 2021, around 123,000 Volvo trucks were shipped worldwide. Volvo Trucks is part of the Volvo Group, the world's leading manufacturer of trucks, buses, construction equipment, marine and industrial engines.
The group also offers complete financing and servicing solutions. Our work at Volvo Trucks is based on our core values ​​of quality, safety and respect for the environment.
var loadAsyncDeferredFacebook = function() {
(function(d, s, id) {
var js, fjs = d.getElementsByTagName(s)[0];
if (d.getElementById(id)) return;
js = d.createElement(s); js.id = id;
js.src = "//connect.facebook.net/en_GB/sdk.js#xfbml=1&version=v3.0";
fjs.parentNode.insertBefore(js, fjs);
}(document, 'script', 'facebook-jssdk'));
}
if (window.addEventListener)
window.addEventListener("load", loadAsyncDeferredFacebook, false);
else if (window.attachEvent)
window.attachEvent("onload", loadAsyncDeferredFacebook);
else
window.onload = loadAsyncDeferredFacebook;
https://www.autotechglobal.com/press-releases/volvo-trucks-constructing-california-electrified-charging-corridor Volvo Trucks builds electrified charging corridor in California