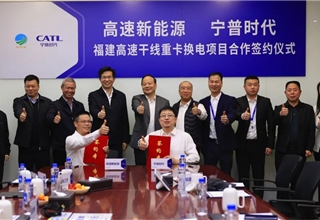 Shanghai (Gasgou)- CATL GLP Digital Technology (Shanghai) Co., Ltd. ("CATL GLP") signed a cooperation agreement with Fujian Maritime Silk Road Highway New Energy Technology Co., Ltd. ("Maritime Silk Road Highway") on March 16 Did. According to a post on CATL's WeChat account, about a heavy-duty truck battery replacement project.
According to the agreement, the two companies will take full advantage of the integration of "high-speed + new energy" resources to invest in the construction and operation management of battery exchange stations dedicated to electric heavy-duty trucks.
Photo courtesy of CATL
In the first phase of the project, four battery exchange stations dedicated to heavy-duty trucks will be piloted at Changle and Luoyangjiang rest stops along the highway, and will be installed on electric heavy-duty trucks traveling between Ningde and Xiamen. We provide timely energy replenishment services. New energy heavy-duty truck users' cruising range anxiety and charging anxiety.
In the future, the two companies will work closely on the high-quality and sustainable development of the highway-based new energy vehicle industry and jointly promote the comprehensive electrification of heavy-duty trucks.
CATL GLP is a wholly-owned subsidiary of CATL GLP Battery Technology Co., Ltd., a joint venture between CATL and Global Logistic Properties Ltd. ("GLP"), according to China's enterprise information inquiry platform Tianyancha, a leading global enterprise doing. Construction, development and operation of logistics properties, data centers, renewable energy and related technologies.
The Maritime Silk Road Highway is majority-owned by Fujian Expressway Energy Development Co., Ltd., which is wholly controlled by the state-owned Fujian Expressway Group Co., Ltd.
https://autonews.gasgoo.com/new_energy/70022489.html Subsidiary of CATL, Ally of Sea Silk Highway Battery Replacement Project