Auto News
ROHM's new PMIC for camera modules in next-generation vehicles: compliant with ISO 26262 functional safety standards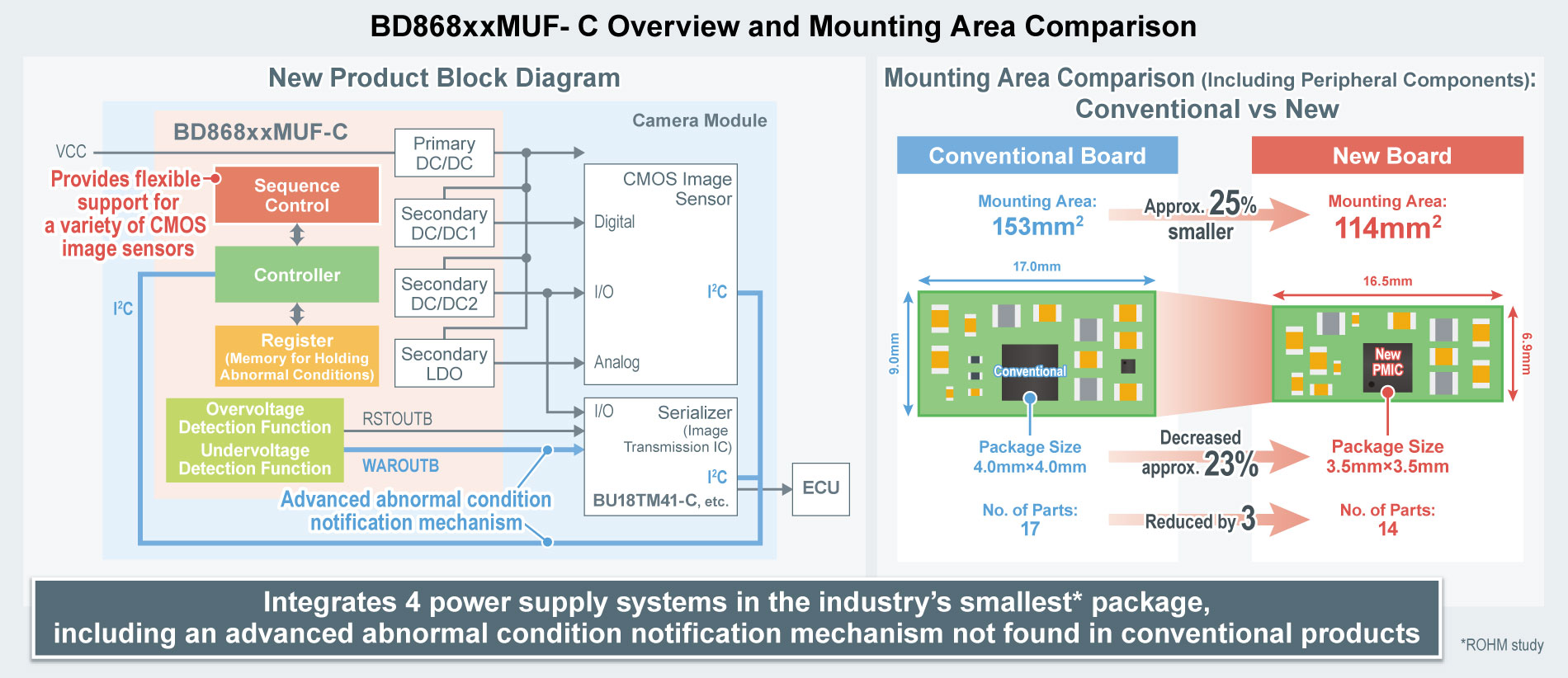 Provides anomaly detection notification mechanism with industry's smallest form factor
ROHM recently released an ISO 26262 and ASIL-B compliant PMIC, BD868xxMUF-C (BD868C0MUF-C, BD868D0MUF-C) For automotive camera modules that are increasingly being used in ADAS (Advanced Driver Assistance Systems).
Due to the continuous evolution of ADAS in recent years, the number of dashcams is increasing. At the same time, it is becoming increasingly important to introduce the concept of functional safety. Manufacturers of automobiles and automobile parts (including semiconductor suppliers) have adopted the international safety standard ISO 26262 because even one camera failure can lead to a serious accident.
In 2018, ROHM received ISO 26262 development process certification from the German certification body TÜV Rheinland and launched the brand in 2021. 'Comfy SILTM' We contribute to the safety, security and comfort of users and systems through products that support functional safety. As part of Comfy SILTM These ICs in the series are "FS (Functional Safety) Process Compliant" products (highest grade) and show compliance with the ISO 26262 standard.
By meeting the stringent functional safety requirements, these latest products facilitate the safety design of next-generation vehicles equipped with ADAS. In addition, the four power systems (3 DC / DC + 1 LDO) required for automotive cameras are integrated into a 3.5mm x 3.5mm package, making it the industry's smallest size with an equivalent camera PMIC. It is equipped with an abnormal status notification mechanism such as abnormal voltage detection and feedback by I.2C. This reduces the number of components by 3 compared to the previous solution, reduces the footprint by 25% compared to the conventional solution, and contributes to the miniaturization of the vehicle camera. (The 25% above is an example and can be further miniaturized by optimizing for individual applications.) At the same time, with different output voltages to meet the different requirements of different CMOS image sensors. You can configure the sequence control settings. Manufacturers greatly simplify development.
sauce: ROHM
https://www.automotiveworld.com/news-releases/rohms-new-pmics-for-camera-modules-in-next-gen-vehicles-compliant-with-the-iso-26262-functional-safety-standard/ ROHM's new PMIC for camera modules in next-generation vehicles: compliant with ISO 26262 functional safety standards