Racing News
Northern Talent Cup: American-born Moore P2 in Race 2, Reed Point-Roadracing World Magazine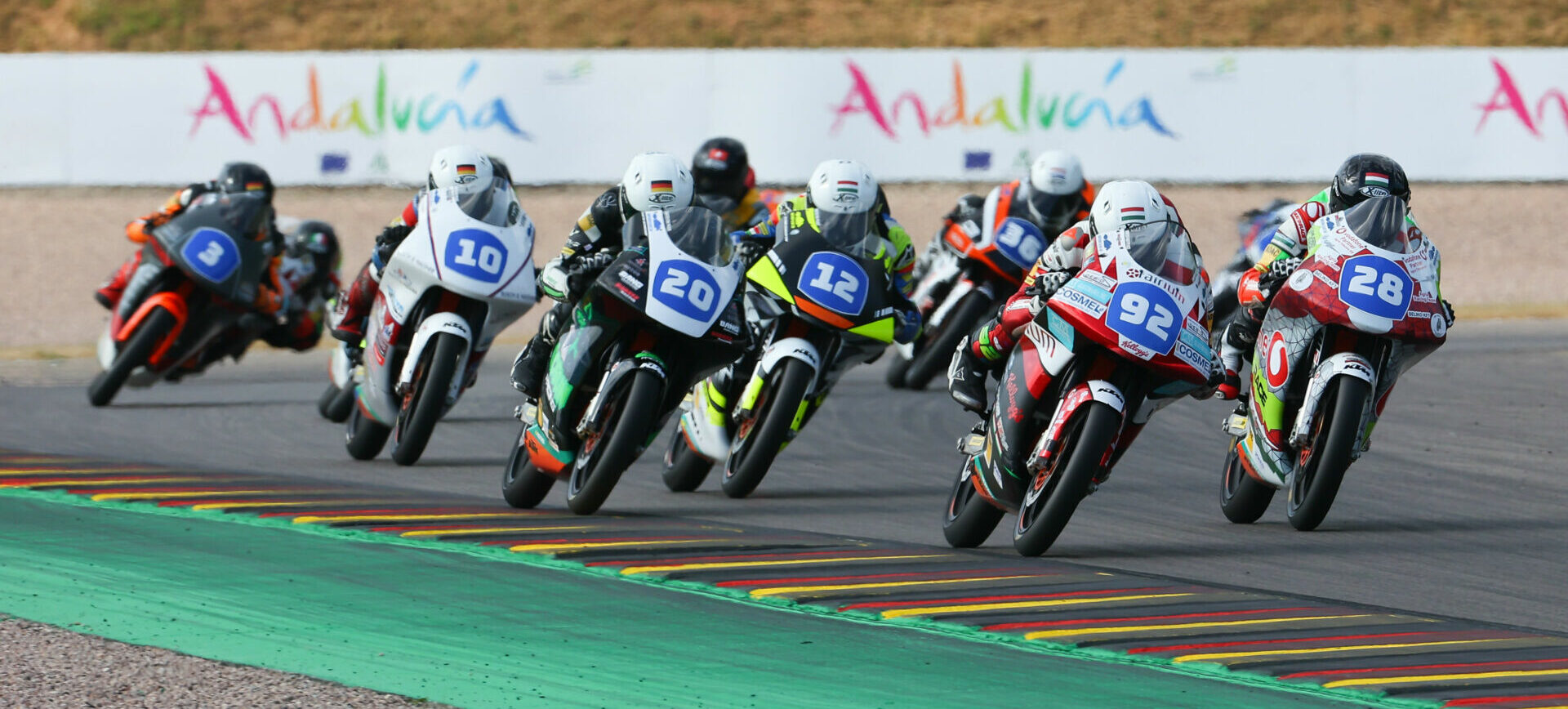 © 2022, Roadracing World Publishing, Inc. by David Swarts.
NTC_2022_GER_SUN_Race_2_Classification

NTC_2022_GER_Championship_Classification_after_Race_6

In addition, from a press release issued by Dorna:
Kevin Falcus (Agria Racing Team) won Race 2 of the Northern Talent Cup in Sakusen Ring. This is because the top two players in the cup ranking became their second match in a few days. Title leader Rossi Moore (Farium Next Generation Riders) crossed the line first, but the Hungarians crossed the track limit on the final lap and crossed the Falcus line to win second place. Lenoxx Phommara (Team Phommara) came from 8th place on the grid to reach the first dry podium of the season.
In Sakusen Ring, 17 riders fought in the top group from off, and despite starting from the outside of the second row, Farcus took the lead again in the early stages, another attractive NTC in scorching conditions. It was a race. The leads changed from lap to lap, but turns 1, 12, and 13 served as the main action areas, but consistently two were Farkas and Moor before the freight train. And, as expected, the fight for victory went down to the last lap.
Upon exiting the famous waterfall section, Moore headed for the inside line, but overtook Falcus and challenged the green. Moore was able to cross the line on P1 because he delayed the brakes on turns 12 and 13, but the track limit was exceeded and the number 92 was demoted and Falcus was promoted to P1. This is the second victory of the year.
Moore finished the day of P2 and Pommara created a wonderful slow race pace on the podium in 3rd place as pole sitter Julian Van Kruten (BB64 Academy) missed the P4's debut podium slightly.
Martin Vincze (Chrobak Motorsport Egyesulet) finished P5 just 0.5 seconds away from the win as Race 1 podium finisher Dustin Schneider (Goblin Racing) settled on P6 with a shy 0.6 seconds. 7th place finisher Rocco Sessler (MCA Racing) also took 3rd place as Maxime Schmid (Team Schmid), Matteo Masili (Farium Next Generation Riders) and Loris Veneman (Team NL Open Line). Completed the second penalty – Top 10 at the end of the race.
It's all from two sensational races in Sakusen Ring! Next to the NTC Rider is a short trip to the TT Circuit Assen. Again, take part in the MotoGP ™ paddock at Speed ​​Cathedral on the weekends.
https://www.roadracingworld.com/news/northern-talent-cup-american-born-moor-p2-in-race-two-leads-points/ Northern Talent Cup: American-born Moore P2 in Race 2, Reed Point-Roadracing World Magazine