Technology
EVgo and General Motors enable Plug and Charge across the EVgo network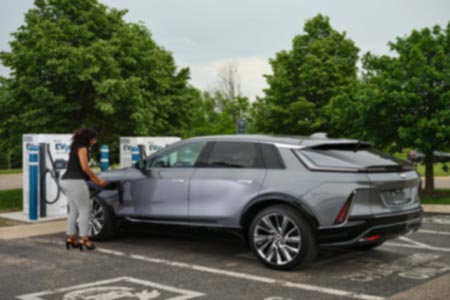 EVgo Inc. (NASDAQ: EVGO) is the nation's largest public fast-charging network for electric vehicles (EVs).
General Motors (GM) will also make plug-and-charge available on all GM EV* with DC fast-charging capability on its EVgo network.
Plug and Charge allows EVgo GM customers to initiate a fast charging session in seconds without having to open a mobile app or swipe an RFID or credit card, saving EV drivers time and making it seamless and safe It can provide a perfect charging experience.
GM's Plug and Charge service utilizes the latest version of EVgo's automatic charging technology and adds enhanced security features. Autocharge technology builds on his EVgo leadership position in EV charging innovation to streamline the customer experience.
EVgo Chief Technology Officer Ivo Steklac said:
"Together with GM, EVgo continues to implement new technologies across multiple hardware and software platforms to enhance the charging experience."
This innovative technology will be available first on all GM EVs with DC fast charging** at EVgo stations. After one registration, the customer unlocks convenient fast charging on his EVgo network, allowing the charger and car to communicate to securely match the vehicle to the driver's EVgo and GM branded app accounts. increase.
To register, GM customers must register their vehicle in a GM branded app (myChevrolet, myGMC, myCadillac), link their EVgo account, and enable Plug and Charge within the GM branded app.
Hoss Hassani, GM's vice president of EV ecosystems, said:
"Our collaboration with EVgo on Plug and Charge complements the work already underway on Ultium Charge 360 ​​and is part of a larger effort this year to expand charging infrastructure, access and education. is."
For more information on fast charger locations within EVgo's charging network, please visit www.evgo.com.
To use the new services, you will need an EVgo account, active OnStar connected services and a GM branded app (myChevrolet, myGMC, myCadillac) associated with your vehicle.
CHAdeMO doesn't have a unique identifier, so you can't use auto-charge (or plug-and-charge). A certain subset of CCS vehicles are also not available for autocharging due to vehicle manufacturer restrictions.
About EVgo
var loadAsyncDeferredFacebook = function() {
(function(d, s, id) {
var js, fjs = d.getElementsByTagName(s)[0];
if (d.getElementById(id)) return;
js = d.createElement(s); js.id = id;
js.src = "//connect.facebook.net/en_GB/sdk.js#xfbml=1&version=v3.0";
fjs.parentNode.insertBefore(js, fjs);
}(document, 'script', 'facebook-jssdk'));
}
if (window.addEventListener)
window.addEventListener("load", loadAsyncDeferredFacebook, false);
else if (window.attachEvent)
window.attachEvent("onload", loadAsyncDeferredFacebook);
else
window.onload = loadAsyncDeferredFacebook;
https://www.autotechglobal.com/press-releases/evgo-and-general-motors-activate-plug-and-charge-across-evgo-network EVgo and General Motors enable Plug and Charge across the EVgo network